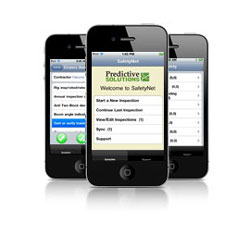 Pittsburgh, PA (PRWEB) July 19, 2012
Predictive Solutions Corporation announced today that version 1.1 of its SafetyNet app, used to upload safety data to its workplace safety software, is now available for download from the App Store. This is the first update to the workplace safety software app which was originally released last year. Existing Predictive Solutions customers can install the app on their iPhone®, iPad® or iPod touch® and collect their workplace safety observations, including photos, with the tap of a button.
Version 1.1 enables users to upload pictures directly to SafetyNet. This is particularly helpful in more accurately and efficiently recording workplace safety observations and subsequent corrective actions in the field and on worksites, without having to go back to a desktop or office computer. Other features of the new version include the ability to view and resolve open issues by location, inspector, work team or contractor; add additional team members on the fly to projects and locations being observed; and access help pages via a link on the support tab. There are other various usability improvements.
SafetyNet users can also upload photos to the software using the SafetyNet app for Android™. Android phone and tablet users can download the app on Google Play.
SafetyNet from Predictive Solutions is the leading technology for saving lives by predicting workplace injuries. It is a workplace safety software solution that automates the collection of workplace safety data and performs advanced and predictive analytics to identify trends that can affect workers' safety. With their highest risk areas identified by SafetyNet, customers can predict where injuries are likely to occur and then proactively prevent them.
####
About Predictive Solutions Corporation
Predictive Solutions Corporation, formerly DBO2, saves lives by predicting workplace injuries. Its software solutions help track, trend and analyze safety related data and incidents. They also employ proprietary models that predict the likelihood, frequency and location of workplace injuries using its customers' safety observation data. In addition, Predictive Solutions delivers consulting services that drive culture and process change within organizations to create sustainable safety processes that reduce injuries. With more than 100 million observations and nearly 40,000 reported incidents from more than 15,000 worksites around the world, Predictive Solutions has emerged as an industry leader in predicting injuries before they occur. Predictive Solutions, based in Pittsburgh, Pa., was founded in 2001 and became an Industrial Scientific company in 2008. Its employees, along with those of its parent company, are dedicating their careers to ending death on the job in this century. For more information, visit http://www.predictivesolutions.com.
About Industrial Scientific Corporation
Industrial Scientific Corporation is the world's leading provider of Gas Detection as a Service. With more than 925 people working in 22 countries, Industrial Scientific is dedicated to eliminating death in the workplace by the end of this century. Achieving this goal requires dedication to delivering highest quality and best customer service in all transactions. Industrial Scientific also focuses on providing analysis of data from equipment use and maintenance to identify problems before they happen. Industrial Scientific has operations based in Pittsburgh (USA), Arras (France), Dortmund (Germany) and Shanghai (China). The company provides technical services to customers from local service centers around the world, and has additional offices in Australia, Belgium, Brazil, Canada, Chinese Taipei, Czech Republic, India, Indonesia, Italy, Netherlands, Panama, Poland, Qatar, Russia, Singapore, Thailand, United Arab Emirates and the United Kingdom. Industrial Scientific is the parent company to Oldham (http://www.oldhamgas.com) and Predictive Solutions Corporation (http://www.predictivesolutions.com). For more information, visit http://www.indsci.com.