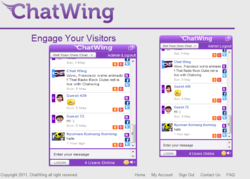 New York, NY (PRWEB) July 21, 2012
Travel bloggers in the Blogspot community can now be able to expand their market reach with the help of Chatwing's latest chat box. This chat application has been built to connect thousands of bloggers and web surfers with each other. Travel bloggers can benefit a lot from the Chatwing chat tool because of the real-time blog interaction that it can offer. The Chatwing app also utilizes the power of social media.
Travel bloggers can take advantage of the light communication ambiance offered by Chatwing's free chat box. In a single Chatwing-infused blog, visitors can talk about various topics. If the blog is all about travel, visitors can ask questions about travel tips and hot spots for vacations. The Chatwing team has also noticed that visitors love real-time communication rather than wait for blog comments that may take time. Additionally, Facebook users can now log in with their accounts. Twitter users can also do the same.
The Chatwing team understands that the niche of travel blogging has received a significant boost lately. This is because of the numbers of exotic resorts and vacation spots being developed in many parts of the world. Chatwing has decided to tap this opportunity and with the help of a free chat widget, vacationers will now be able to talk about their wonderful travel experiences. Back then, the Chatwing chatbox has been introduced in prominent online sectors such as social media marketing, dating, blogging tips, and even technology talk sites.
The dedication of the Chatwing dev team in providing website chat opportunity exceeds the expectations of a lot of bloggers. Because of this dedication, Chatwing's free chatbox has been making a name in the blogosphere lately. Hundreds of new travel bloggers are now incorporating the important communication leverage that has always been offered by Chatwing. New users can even check out Chatwing's video tutorials to know more about its important features.
About Chatwing.com
Chatwing.com specializes in the new field of website chat. Over years, the Chatwing team has introduced live chat widget for hundreds and thousands of blogs. The Chatwing application bridges people from many parts of the world, creating global synergy through the Internet. The shout box can be installed in just seconds, and it can be used for varying purposes such as leisure and Internet marketing. It also allows a user to customize the size, color, and name of the widget. Chatwing is 100% free for everyone.