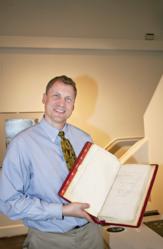 Ellen Kullman, DuPont Chair and CEO said, "this particular set of records covers one of the most important eras in DuPont and U.S. industrial history, and chronicles decisions made by some of our company's most storied leaders."
Wilmington, Delaware (PRWEB) July 19, 2012
July 2012 - To commemorate its 210th anniversary, DuPont today officially conveyed a set of important 20th century documents to Hagley Museum and Library . The company deposited its board and committee minute books, which date from 1899 through 1940. These records document the transformation of DuPont into a modern, centrally administered industrial giant. They represent a significant addition to the E.I. du Pont de Nemours and Company Archives at Hagley.
"These volumes add depth to an already important archive at Hagley," says Hagley Executive Director Geoff Halfpenny. Ellen Kullman, DuPont Chair and CEO said, "this particular set of records covers one of the most important eras in DuPont and U.S. industrial history, and chronicles decisions made by some of our company's most storied leaders."
The minutes received include those for directors' and shareholders' meetings, and those for the Executive, Finance and "A" Bonus Committees. These records describe the company about the time it was taken over by three du Pont cousins, T. Coleman, Pierre S., and Alfred I. du Pont in 1902, when it was the leading manufacturer of commercial explosives and sport shooting powders. By the end of World War I, the company's acquisitions and plant expansions had made it the largest supplier of munitions for the Allies. Later volumes reveal DuPont's strategy of diversification during the interwar period as it established its presence in the dyestuffs, paints, plastics, and cellophane markets. Thanks to its work on polymers during these years, leading to the discovery of nylon, DuPont contributed to the Allied cause in World War II through textiles as well as munitions.
About the Library
Hagley Library is the nation's leading business history library, archives, and research center. Current holdings comprise 37,000 linear feet in the Manuscripts and Archives Department, 290,000 printed volumes in the Imprints Department, 2 million visual items in the Pictorial Department, and more than 300,000 digital images and pages in the Digital Archives Department. Hagley's Center for the History of Business, Technology, and Society organizes conferences, research seminars, and a public lecture series; it also operates a research grants-in-aid program.
Hagley Museum and Library
Hagley Museum and Library collects, preserves, and interprets the unfolding history of American enterprise. Hagley is located on Route 141 in Wilmington, Delaware. For more information, call (302) 658-2400 weekdays or visit http://www.hagley.org.
###