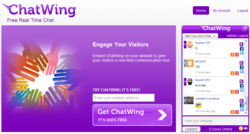 Cambridge, MA (PRWEB) July 21, 2012
The Chatwing chat team has just reached out to the Typepad community by launching a new global chat box that can provide a stream of communication to everyone. This chat application excels in bringing people closer together and making blogs as visible as possible. The Chatwing chat tool has also been introduced in other blogging communities across the Internet. Active users in Wordpress and Livejournal have been using the Chatwing chat app in various purposes, mostly online.
Typepad users can now take advantage of Chatwing chat app's full conversation control in every chatbox. Now, Chatwing admins or shoutbox owners can delete messages in real-time and set word filter parameters. Chatwing's social media integration has helped a lot of users gain the proper visibility they need by providing means of interaction. Now, Chatwing guests and visitors can log in with their Facebook or Twitter accounts. This is useful for people who want to expand their social networks.
The expansion in the Typepad community has been a long-standing plan of the Chatwing dev team. It was finally commenced in the middle of 2012, because the Chatwing team has conducted several expansions in other online communities. Adding to that, the dev team is always conducting upgrades to the chat widget in order to maintain its speed and deal with the projected influx of clients in the coming months. The latest version of the Chatwing chat app can accommodate up to 600 users, yet the dev team is planning to upgrade it to 1000.
The Chatwing team believes that a proper web communication experience can only be achieved by introducing a free chat widget that can deliver optimum performance. Such high level of performance can rival other chatrooms with subscription fees. In the coming months, the Chatwing team will incorporate other known options to keep thousands of users enticed.
About Chatwing.com
Chatwing.com specializes in the new field of website chat. Over years, the Chatwing team has introduced live free chat box for hundreds and thousands of blogs. The Chatwing application bridges people from many parts of the world, creating global synergy through the Internet. The shout box can be installed in just seconds, and it can be used for varying purposes such as leisure and Internet marketing. It also allows a user to customize the size, color, and name of the widget. Chatwing is 100% available for everyone.