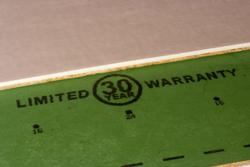 "ZIP System R Sheathing answers a call from builders to make the construction process more efficient while helping meet stricter energy codes that require continuous exterior insulation." Brent Flotkoetter, ZIP System Product Director
Charlotte, NC (PRWEB) July 20, 2012
Huber Engineered Woods LLC, leading manufacturer of innovative building solutions, unveils its new ZIP System® R Sheathing, the first structural wall sheathing system with continuous foam insulation that delivers five performance benefits all-in-one panel. In result, homeowners experience enduring home performance, comfort and energy efficiency.
Developed specifically to help builders meet evolving energy codes, the five-in-one ZIP System R Sheathing is ZIP System® sheathing with built-in laminated exterior rigid foam insulation. ZIP System Sheathing is a one-of-a-kind energy-efficient barrier that keeps moisture out and reduces air-leakage through the walls, while still allowing the house to breathe. ZIP System R-Sheathing adds one more layer of thermal insulation. This provides builders a faster way to install an all-in-one structural sheathing system with a built-in moisture and air barrier combined with thermal insulation. ZIP System R-Sheathing offers superior durability and added strength in the wall assembly of a home.
"The introduction of our innovative new ZIP System R Sheathing answers a call from builders to make the construction process more efficient while helping meet stricter energy codes that require continuous exterior insulation," stated Brent Flotkoetter, ZIP System Product Director. "We have enhanced our ZIP System sheathing with rigid foam insulation to eliminate the hassles of installing multiple systems on the jobsite. This provides builders with five layers in one installation step."
Insulating and protecting in a single application, the five-in-one system offers structural components including:
1. Continuous foam insulation, designed to meet new energy codes, provides higher R-value and increases thermal performance while eliminating thermal bridging.
2. Engineered wood provides structure and durability. ZIP System R Sheathing is made with the same resins and technology as AdvanTech® flooring, the #1 brand of subflooring.
3. A built-in water resistive barrier eliminates the need for housewrap and felt, eliminating costly rework. Optimal permeance allows the panel to breathe and dry out.
4. Continuous rigid air barrier creates greater energy efficiency and homeowner comfort by dramatically decreasing air leakage into and out of a building, which helps to eliminate drafts.
5. ZIP SystemTM tape permanently seals all panel seams. The tape adhesive is acrylic technology that provides superior, permanent adhesion.
ZIP System R Sheathing comes with ½" (R-3) or 1" (R-6) polyisocyanurate foam bonded to the inside of the structural OSB panel. When installed with ZIP System tape, the system is backed by a 30-year system and 180-day exposure warranty. "ZIP System R Sheathing comes at a perfect time as new Energy Star 3.0 requirements call for increased focus on insulation," said Allen Sealock, ZIP System Technology Director.
All of Huber's mills are certified as conforming to the SFI Standard, promoting sustainable forestry practices through procurement programs and research initiatives, as well as logger and landowner outreach. In addition, each plant employs state-of-the-art environmental control equipment and maintains strict control standards to ensure that the manufacturing of Huber products has a minimal impact on the environment. Huber Engineered Woods products earned the National Association of Home Builders (NAHB) Research Center's Green Approved Products placement in 2009, verifying that the ZIP System roof and wall sheathing are eligible to contribute points toward the certification of a building under the NAHB National Green Building Standard™.
For more information about ZIP System® R Sheathing visit the ZIP System website. You can also like us on Facebook and follow us on Twitter.
###