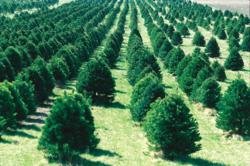 Hartford, MI (PRWEB) July 19, 2012
The erratic weather this year and in particular, the heat and lack of rain that has accompanied this summer, have created problems for all living things, including crops.
Christmas Farms, located in Hartford, Mich. takes pride in growing top quality Christmas trees. However, this season the task is a much more daunting one. The extremely dry weather that has been present in Michigan makes it difficult to keep the trees properly irrigated. The solution to this potentially hazardous situation for the Christmas tree crop is a form of irrigation called trickle irrigation.
Trickle irrigation, also sometimes called drip irrigation is a method of keeping crops hydrated that functions using a system of pipes, tubing, valves and emitters. Narrow tubes are used that allow water to drip slowly and directly to either the roots of the tree or the soil surface. This system of irrigation is effective, but for Christmas Farms, a company tending to hundreds of acres of trees, it must be closely monitored to ensure all trees are receiving just enough water.
Summertime is also when the trees are shaped to ensure an eye-pleasing appearance. So, not only are the trees exposed to the heat, but the company's team of sheering experts must endure it too. This time of year, the team carouses the fields removing pinecones and unwanted branches that alter the shape or desired height of the trees. This process is time consuming and tedious, and without proper hydration and time to cool down from the sun's heat, may be dangerous for the sheering team.
Employees at Christmas Farms are again exposed to the heat while administering weed control. In the living environment this summer has created that is already difficult for the trees to survive in, the presence of weeds would make it even tougher. Weeds take valuable nutrients from the soil and also attract small animals that may nest in the trees.
While Christmas Farms has a solid method of tending to their notoriously high-quality trees, only time will tell how the crop will turn out this year due to the hot, dry weather. So, when the time comes to pick out a real Christmas tree or holiday wreath in celebration of the holiday season, forget about how cold and snowy winter is and remember the strenuous work tree growers had to put in this growing season due to this summer's hot, dry weather.
Press release from Blue Fire Media, a web design company that also specializes in web marketing and SEO.