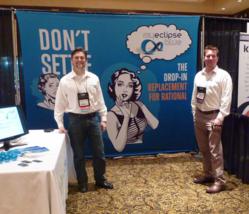 "Our business was bolstered due to the production quality and service of Giant Printing." - Jan Eckels, Genuitec
Austin, TX (PRWEB) July 19, 2012
Giant Printing is helping customers nationwide to realize that the days of spending hours setting up and tearing down trade show displays are long gone.
Giant Printing's new One-Minute fabric backdrops can be effortlessly assembled in minutes and utilize supplied pipes and drapes to maximize floor space and visibility. Traditional trade show backdrops have bulky, accordion-style folding panels that take multiple people and lots of time to set-up and tear down.
"Setting up anything less than a perfect trade show space can make or break a show," Howard Stevens, Owner of Giant Printing, stated. "Our One-Minute backdrops provide everything consumers are looking for and everything our competitors don't have."
Conventional backdrops are hefty and have to be shipped by special carriers. These oversized displays can easily get broken, lost or arrive late but the unique One-Minute backdrops from Giant Printing weigh less than five pounds and can be easily transported in your carry-on luggage.
Giant Printing's One-Minute fabric backdrops are foldable, machine washable, and wrinkle-resistant. They are also durable enough to withstand years of trade shows, and are non-reflective so you'll always have the photo-ready trade show display that you need.
One-minute backdrops from Giant Printing are also environmentally friendly, flame retardant, and always printed on the highest quality American made fabrics available.
"We don't cut corners by using imported fabrics, laminated paper or toxic PVC vinyl," Stevens added. "We supply our customers with the highest quality backdrops on the market."
Giant Printing provides customers with Banners, Backdrops, Table Runners, Banner Stands, and more for trade show and meetings. For more information on Giant Printing and their products, visit giantprinting.com.
###