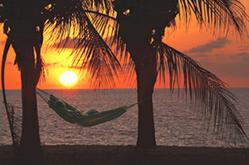 A hammock is a net for your body with holes just wide enough for your worries to fall through.
Greenville, N.C. (PRWEB) July 19, 2012
The hammock has come a long way, baby! And National Hammock Day, held July 22, is easing on in again to celebrate the ever-popular leisure contraption's roundabout journey.
So what makes this hanging bundle of rope and wood, or rope and fabric, so worth honoring, anyway?
"If you have to ask that, you're truly overdue to spend a little quality time in a good hammock," says Frank Rabey, who handles public relations for The HammockSource, the world's largest manufacturer and seller of hammocks. "Because the question then answers itself!"
The HammockSource is home to such influential brands as Hatteras Hammocks and The Original Pawleys Island Rope Hammock.
"The hammock has for generations been the symbol most associated with relaxation," Rabey continues. "Try this: Picture yourself on some tropical island right about sunset, sipping a cool drink beneath a couple seaside palms as they whisper softly in the breeze. Yet this lovely image of relaxation feels somehow incomplete, doesn't it? That's because your mental impulse is almost automatic to stretch a hammock between those two trees, with you then contentedly swaying within it."
The hammock's current lofty cultural position belies, however, its humble beginnings centuries ago as something entirely functional, not fun.
The earliest hammocks hail from the Caribbean and the Americas, to at least 500 years before the arrival of Columbus (who, in fact, carried a few back with him to Spain). Originally used by New World natives as beds to be hung out of reach of snakes and other undesirable night visitors, those first hammocks were made from old fishing nets, palm fronds, sisal rope, various indigenous fabrics or, often, bark from the hamak (thus, hammock) tree.
Jump forward to the 1600s, when the British Navy introduced a cocoon-like hammock of heavy canvas as its ship's bed. Many commercial vessels soon followed suit, with the U.S. Navy also adopting the practice by about the time of the American Civil War.
Flash-forward next to the late 19th century, when Pawleys Island, S.C., riverboat captain Joshua Ward's quest for a cooler night's sleep onboard his boat led him to experiment with hammock redesign. Yet Ward set his sites not upon those hot, confining maritime canvas hammocks, but upon the inferior rope hammocks of his day; rope allowed greater airflow around a sleeper's body. He dispensed immediately with the thin, scratchy hemp and manila rope common back then, framing his redesign instead around soft, thick cotton rope in a lattice-like weave, thus eliminating the need for the bulky, uncomfortable knots standard in the rope-hammock bed of his time.
Ward's true legacy, however, is the invention of the hammock spreader bar, a narrow piece of wood with holes bored in it for ropes to pass through. His new spreader-bar hammock offered, for the first time, a relaxed, open reclining experience.
And with that, the standard for the classic American rope hammock was born, becoming in the century since the paragon of perfect leisure.
With today's best hammocks handmade from "vastly improved all-weather materials of surprising softness," this once-utilitarian creation continues to re-earn its place as the singular symbol of relaxation, says Rabey of The HammockSource.
"The design of a high-quality hammock gives you this sense of being comfortably and safely cradled," he adds. "At the same time, you're lifted up just above the ground, for a wonderful feeling of disconnect from the fast-paced world around you. Try not being relaxed in a setting like that!"
"A hammock," Rabey says, "is a net for your body with holes just wide enough for your worries to fall through."