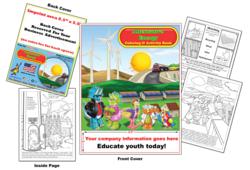 Our company brings an authenticity to Children's Coloring Book Products that advance the understanding of complex issues for children and adults as well, Wayne Bell, Publisher
Saint Louis, MO (PRWEB) July 20, 2012
Through the characters of the coloring book "Energy Gang", we help children and adults learn more about the global picture of energy and why it is vital to the success of all people. These new products take a bold and fresh look on the subject of energy for kids and adults: including information and facts on fracking, energy independence, conservation tips, renewable, fossil, nuclear energy and America's Energy Future. Really Big Coloring Books, Inc. one of the leading producers of children's coloring and activity books released "Everything Energy" to help continue the education of youth in their understanding why energy is necessary and why it's important.
Included in the new line of energy coloring book products are subjects on energy saving tips, alternative fuels, traditional fossil energy topics and the impact of America having a real energy plan. Designed for libraries, educators, teachers, the promotional products and advertising specialty markets, the business and consumer friendly books provide important and relevant energy information that children and adults will understand and appreciate. A variety of energy topics available in educational child friendly formats.
"Our company brings an authenticity to Children's Coloring Book products that advances the understanding of complex issues to children and adults as well", Wayne Bell, Publisher. Partial proceeds from the sale of this book will be contributed to educational resources including a scholarship fund for higher learning within the energy industry. The imprintable-promotional line of books can be purchased for as little as $0.37 cents each. The retail friendly version is $2.99 and up.
The retail version at $2.99 to $4.99 and the imprintable promotional - advertising specialty pricing at $0.37 cents and up, the new line of books are available today at http://www.Coloringbook.com and at major book sellers such as Amazon.com, Abe Book and Barnes and Noble.
Really Big Coloring Books, Inc.® (RBCB) is headquartered in St. Louis, MO. A multi-national company providing children's coloring books for over two decades to the retail, educational and fundraising communities. Collaborating with the business community and keeping the end consumers in mind is a big part of their success. Known for their market leading positions, RBCB's family of products are classic, colorful, unique and designed for children and adults. The company owns and operates more "coloringbook" domain names than any business in the English speaking world. Wayne Bell founder of the company says customer satisfaction and quality products are key elements to serving the needs of the coloring book community. We bring an authenticity and a unique perspective to complex subjects for youth. For more information call 1-800-244-2665.