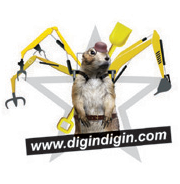 Montreal, Quebec (PRWEB) July 19, 2012
The online logo service provider digindigin.com has just announced that it will be adding or providing high quality customized brochure design services to its growing line of services. The company has been experiencing tremendous growth and as such is set to further exceed the expectations of customers by the provision of high quality brochure design services. Customers will get to enjoy personalized and customized brochure design packages at the affordable rates that they are used. Digindigin.com understands the importance of quality and this is why it has announced that its best designers will be responsible for meeting and exceeding the expectations of customers. All that customers are expected to do is fill an order form found their logo website and detailing the kind of design that they want on their logo.
Digindigin.com has grown to be a company with a talented group of designers who are dedicated towards providing quality services. The brochure design services are expected to meet the ever growing demands of customers who want something unique and affordable. Customers are encouraged to fill an order form detailing the kind of design they want on their order as well as the timeline. Digindigin.com is known for its attention to detail and provision of quality services. Customers can simply log into their website and get a glimpse into the different brochure design packages as well as the features that each package comes with. All that customers are expected to do is to navigate through the website and get all the information they need about different services.
Digindigin.com has a pool of talented designers who will be tasked with providing high quality brochure design services to various customers. The need by the company to stress a lot of importance on brochure designs is to adequately meet the ever growing demands of its customers. The services will be offered with the professionalism and quality that customers are accustomed to. Major emphasis will be placed on meeting and exceeding the needs of customers. Customers who want a uniquely customized brochure design can lay easy in the knowledge that the talented designers from digindigin will not disappoint.
Customers can get more information on brochure design packages and pricings from http://www.digindigin.com/ . This is a site that is dedicated towards providing customers from all walks of life with adequate information on logo design services as well as packages on offer. There is a team of dedicated staff who are available 24/7 to provide customers with information on logo designs and the kind of services that they should expect. The support staffs answer any queries that customers could be having on not only brochure design packages but also other services offered by the company.
About digindigin.com
Digindigin.com is an online top logo company famously known for its attention to quality and excellent service delivery. The company boasts of a pool of talented designers who form the bulk of its online community. The company is known for its proactive policies on customer satisfaction and the need to exceed the needs and expectations of customers. Its unique logo services have propelled it to greater heights of success in the world of design. Digindigin.com is a division of 123inkcartridges.ca