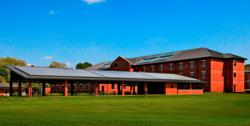 (PRWEB) July 23, 2012
Suffolk Construction announced that the Bachelor Enlisted Quarters (BEQ) at Naval Facilities Engineering Command Southeast located in Albany, Georgia, has been awarded LEED® Gold by the U.S. Green Building Council (USGBC).
The 63,000 square foot Marine Corps Bachelor Housing located at Marine Corps Logistics Base in Albany, GA, included the design and construction of the 200-bed living quarters, associated storage, utilities, parking and anti-terrorism force protection.
The project initially only required Silver certification, but Suffolk Construction along with CSO Architects, worked in collaboration to ensure all performance measures were taken into consideration during the design and construction of the facility and it ultimately reached Gold.
The Suffolk team felt the target throughout this project was to provide the highest level of service to the client, following their specifications and requirements, and help them meet USGBC's LEED Gold criteria of high-performance and sustainability for their facility.
A 75kW DC Photovoltaic system was required as part of the energy enhancement package. The challenge was to accommodate the number of required panels to generate electricity to also support the storage shelters and outdoor entertainment areas. The use of Solar Hot Water Technologies provides at least 50 percent of the daily water demand. Just the implementation of these two components saved approximately 14 percent (147,000 BTU/YR) of the annual energy costs of the building.
Other performance measures implemented included installation of the most energy-efficient plumbing fixtures and included upgraded boilers and pumps to provide energy conservation features, reduced potable water usage, and adding UV disinfecting lights for all fan coil units for optimizing heating and cooling which together exceed the EPACT 2005 Compliance requirements.