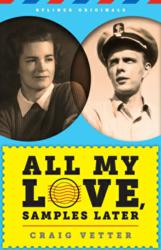 A New Byliner Original by Craig Vetter
San Francisco, CA (PRWEB) July 19, 2012
Peter Simmons never knew his father. Just weeks before Simmons turned three—and a few months before the end of World War II—his father was blown from the fantail of a destroyer into the waters off Okinawa, Japan. Eventually, Peter lost even the name they shared: When he was six, his mother remarried and Peter Simmons became Craig Vetter, the adopted son of a man who would never be able to compete with a dead hero.
As Craig Vetter writes in the poignant memoir All My Love, Samples Later, from Byliner, the wartime death cast a long shadow over his family—alcoholism, divorce, and deep sadness marked his mother's life. The shadow touched Vetter, too. His father remained a lost, unknown presence, made only slightly real by a Bronze Star and a series of photographs.
Finally, decades later, Vetter sat down with his father's journal and the letters his parents had exchanged between 1940 and 1945 and began to learn the true tale of his family. Robert and Winifred Simmons spent a total of eight months together in the four years they were married. Their love story played out in hundreds of letters that crossed the Pacific—vivid accounts from Pearl Harbor, the Philippines, and the series of destroyers on which Robert was stationed, as well as spirited reports from California, where Winnie gamely dealt with gas rations and blackout drills and endured two lonely pregnancies without her husband.
Through these pages, Vetter finally got to know his father. Robert was headstrong, playful, romantic, and a born writer—traits handed down to his son. Vetter also got a deeper appreciation of his strong and private mother, who was every bit the hero Robert was. His parents' letters are filled with hope and yearning for the life they'll share once the war is over. But their story wouldn't have a happy ending.
"Mom said that she took us to the duck pond to tell us that Robert was dead," Vetter writes. "We'd been there often to feed the birds and to watch the P-38s and other fighter planes come and go. She knew all of those silhouettes, as well as those of ships. She told us such things often, as if to keep us informed of the technical shapes of our fate. I don't have any memory of what she said to us at the duck pond. In fact, I don't remember the moment at which I knew the worst was true. I've just always known it."
Written with candor and grace, All My Love, Samples Later is a heartfelt tribute to a mother and father whose short life together was one of the countless casualties of war.
***
For more than thirty years, Craig Vetter has been writing for magazines including Esquire, Playboy, Sports Illustrated, Outside, National Geographic Adventure, and many others. His work has appeared in The Best American Sports Writing and other collections. He is the author of the novel Striking It Rich and lives in Chicago.
Byliner publishes compelling works of original fiction and nonfiction written to be read in a single sitting. Among its bestselling titles are Evan Wright's How to Get Away with Crime in America, Nick Hornby's Everyone's Reading Bastard, Amy Tan's Rules for Virgins, Jon Krakauer's Three Cups of Deceit, Margaret Atwood's I'm Starved for You, and Elizabeth Kaye's Lifeboat No. 8. The companion website, Byliner.com, features curated archives of great fiction and nonfiction writing and allows readers to easily find, share, and buy new and classic stories by their favorite authors.
All My Love, Samples Later is available for $1.99 as a Kindle Single at Amazon, a Quick Read at Apple's iBookstore, a NOOK Snap at BN.com, and a Short Read at Kobo.
For a review copy, please contact Clare Hertel at clare(at)byliner(dot)com; 505-474-6783.