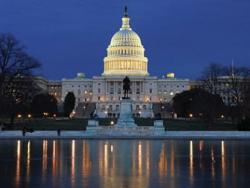 "The result of the excellent relations that have been established over the last few years" - Italian Ambassador Claudio Bisogniero
Washington DC (PRWEB) July 19, 2012
On July 19th, a number of prominent Italian wine producers will meet on Capitol Hill for the first time with U.S. lawmakers for a cultural exchange on wine and to discuss issues related to the wine sector.
The Italian Ambassador to the U.S. Claudio Bisogniero, in cooperation with the Congressional Wine Caucus, will host this event. The bipartisan Congressional Wine Caucus, which is co-chaired by Congressmen Mike Thompson and Dan Lungren, is active in educating Members of Congress on federal regulatory and legislative developments pertaining to the wine industry.
The hosts will welcome Giovanni Mantovani (CEO of VeronaFiere) and select wine producers Cristina Mariani-May (Castello Banfi), Marilisa Allegrini (Allegrini Wineries), Daniela Mastroberardino (Terredora Winery), Matteo Lunelli (Ferrari Winery), Luca Paschina (Barboursville Vineyards/Casa Vinicola Zonin), Odila Galer-Noel (Gruppo Italiano Vini (GIV)) in Washington DC.
"As an Italian-American, I appreciate Ambassador Bisogniero bringing together the Congressional Wine Caucus and Italian wine producers to discuss issues impacting both of our wine industries," said Rep. Mike Thompson, co-chair and co-founder of the bipartisan Congressional Wine Caucus. "I am proud to represent a district that produces some of the best wines in the world. Our countries have worked together to build strong partnerships on many issues. Moving ahead, I look forward to working with the Ambassador to build a strong, fair and balanced relationship between our respective wine industries."
The bipartisan Congressional Wine Caucus was established in 1999 and brings together nearly 200 Members of Congress representing all 50 states, who are joined not only by their deep appreciation of wine, but also by their awareness of the significant economic impact of this industry: it contributes an estimated $162 billion to the U.S. economy annually and provides the equivalent of 1.1 million full-time jobs. Wine exports in particular have experienced significant growth, with a record $1.4 billion in winery revenues in 2010.
According to the Italian Ambassador Claudio Bisogniero, "the event will offer the opportunity to present the excellence of the wine from some of our major producers. In the last three years, Italian wine has increased its leadership in the US against its major competitors reaching $1.5 billion in 2011. This outstanding performance is the result of the excellent relations that have been established in recent years between Italian and US authorities. At the same time, it proves the competitiveness of Italian wine in terms of quality and pricing and lays the foundation for Italy to remain the leading exporter of wine to the U.S."
Giovanni Mantovani, CEO of Veronafiere, organizer of Vinitaly, the largest international wine exhibition states: "Presenting the Italian wine world to the Wine Caucus is a unique opportunity to better understand the US Wine Market. The US represents perhaps the most important market for Italian Wines as 28% of all wine imported to the USA in 2011 came from Italy. The Americans are appreciating wine more and more as testified by increased overall wine consumption to 28.5 Mhl. We are committed to dialogue with key players and very pleased with this first-ever encounter between Vinitaly (http://www.vinitalytour.com) and the Wine Caucus."
About Veronafiere
Veronafiere is the leading organizer of trade shows in Italy including Vinitaly, the largest wine event in the world. In 2012, over 4200 exhibitors showcased their wines to over 140,000 visitors (35% from outside of Italy representing over 120 countries). Veronafiere created the Vinitaly World Tour http://www.vinitalytour.com in 1998 to develop an international platform for the promotion of companies in the Italian wine and food sectors. The latest development saw Vinitaly aiming at increasing Italian wine sales in China as it reinforced its partnership with the Hong Kong Trade Development Council (HKTDC), which organizes Asia's leading wine fair Hong Kong International Wine & Spirits Fair.
# # #