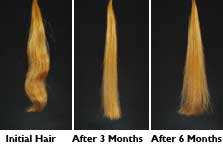 Olez INCEPTION is revolutionary. It is unlike any straightening system that exists.
(PRWEB) July 21, 2012
[Olez INCEPTION is the first hair straightening product line to take advantage of apple stem cells' excellent strengthening and anti-aging properties.
Apple stem cells from a rare Swiss apple, called the Uttwiler Spätlauber, are rich in hydrogen, phytonutrients, antioxidants, proteins and age resistant cells. These apple stem cells are being utilized for the first time within a hair straightening product line. It makes perfect sense, since the stem cells have excellent strengthening and anti-aging properties that enhance the longevity of the hair follicles and protect the hair's own stem cells. Currently, apple stem cells are the most exciting breakthrough ingredient within the cosmetics industry.
Olez INCEPTION is the first professional hair system to incorporate the use of Apple Stem Cell technology along with the finest natural ingredients. Apple stem cells slow down the deterioration of hair follicles, allowing INCEPTION's straight and shiny results to last for up to 6 months, something other straightening brands have not been able to achieve. Olez INCEPTION provides a unique "Naturally Straight" look; in contrast to the "processed" look other treatments offer.
Everything needed for beautiful and healthy hair and to create a "wow! factor" comes in Olez INCEPTION's convenient 4 product kit: Cleansing and Nourishing Shampoo, Action Apple Stem Cell Solution, Sealer and Stem Cell Masque.
Leading industry lab faculty, Kosmo Science Laboratories, performed months of testing on the product. A stress test conducted on curly hair simulated the successful longevity of the treatment beyond 6 months.
Olez INCEPTION's product line includes two home care products:
INCEPTION Stem Cell Masque utilizes stem cells from the rare Uttwiler Spätlauber apple as well as the finest of natural ingredients including Muru-Muru, Cupuaçu and Carite butters for incredibly sleek, silky, soft hair.
INCEPTION Argan & Pracaxi Natural Oil Spray comes in an eco friendly aerosol that dispenses the unique formula, a blend of Argan and Pracaxi natural oils. It hydrates and conditions, while protecting the hair with antioxidants. The Spray is also effective in combating the damaging effects of UV rays while maintaining silky, shiny, and smooth hair.
Salons have a unique opportunity to carry the Olez INCEPTION line, thereby providing a treatment to their clients that features breakthrough technology and provides significant profit potential.
Olez INCEPTION represents the newest product line from [Boca Cosmetics Group. Boca Cosmetics Group, "Innovation Inspired by Nature", is a manufacturer of innovative, quality hair care products that combine natural ingredients with the latest technology to deliver health and beauty.
Claudio Correia, President of Boca Cosmetics Group, described Olez INCEPTION as "revolutionary". He adds, "It is unlike any straightening system that exists. We are excited to bring this product line to market with our world-wide launch at Cosmoprof North America, July 22-24, 2012."
For further information please visit our website at http://www.olezprofessional.com or call 800.251.2479.