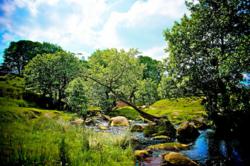 This is what makes our gorgeous part of the world so lush and green
Peak District, UK, 20 July 2012 (PRWEB UK) 20 July 2012
'How about enjoying one of the beautiful picturesque Peak District cottages with a hot tub, in the rain? 'Laughs a director for the very successful family run company, http://www.peakdistrictonline.co.uk.
James Dobson lives and works in the Peak District and started a very popular online holiday accommodation directory several years ago with his business partner, Steve Wake. Both directors run the company with the mindset of helping visitors to the area find not only accommodation suitable for their budget, but also providing lots of information about places to go and things to do.
'The English weather is always unpredictable,' says James. 'And it's even more unpredictable here in the Peak District, raining sometimes without any warning on even the most hot summer's day. But this is what makes our gorgeous part of the world so lush and green, so we can't complain about the inclement weather - but we always do.' He does understand what it's like to be on holiday in the rain, having spent many a wet family holiday in Derbyshire and other parts of the country in the school holidays.
'Trying to find something to keep the children occupied in wet weather is always a challenge for any parent, so we've added pages recently to cater for the incessant rain that we've been having. Hopefully the forecast is true and summer is on its way ready for next week but if it's not, then we have provided lots of new places to go to enjoy the scenery, and still gain shelter and have a lot of fun. One such area is Padley Gorge. This is a wonderful place, especially if the sun is shining, but because it is under the shelter of so many trees, it does provide a most magical day out, come rain or shine.' He goes on to say,' we have all sorts of holiday accommodation with pools attached, saunas or hot tubs, but also those with indoor play areas or on farms to help keep the children happy. We also list the nearest Peak District attractions for all properties and our holiday accommodation owners go out of their way to help their residents make the most of their stay and not let the weather get them down, by providing their own leaflets and welcome packs with lots of information of places of interest.'
What started off as a small business directory listing the various types of holiday accommodation covering the entire Peak District area has now grown into a huge website visited by over 200,000 people a month, by residents of the area and also visitors.
'Whether you are here for a holiday or just for a short break, our website is packed full of pages to help you to enjoy your break or special treat. To plan ahead is always the best idea and we would urge anyone not yet having booked their holiday to have a wander through our pages to plan their time away and get the most out of their special time away from home.'
See the new pages added to the Peak District's favourite online holiday accommodation directory every week and sign up for their newsletter to be kept informed of any relevant information and their Peak District cottage last minute deals.