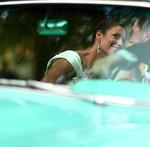 The most natural and unobtrusive way to photograph your wedding is to blend into the day's events and capture the day as a photojournalist would
Charlotte, NC (PRWEB) July 19, 2012
North Carolina residents wanting to hire a wedding photographer in Charlotte can rest assured by the quality work done by Blue Bend Photography. As a leading wedding photographer in Asheville, it only makes sense for the company to expand its operations into the Charlotte area.
Blue Bend believes that wedding photography should be done without interrupting the couple's big day. They pride themselves on being able to be involved in a wedding while being seemingly invisible. In fact, a Blue Bend photographer stated, "The most natural and unobtrusive way to photograph your wedding is to blend into the day's events and capture the day as a photojournalist would. We always stay close to the action but remain quiet and respectful. We will not boss your friends and family around or get in the way."
The company is also working with SEO Service Group to make it easier for clients to find them by showing up for keywords like "Charlotte wedding photographer", or "wedding photographer Charlotte" when searching in Google.
Wedding photography in Charlotte can now pride themselves with being able to blend formal moments and spontaneous moments of a wedding. While many wedding photographers neglect the spontaneous moments of a wedding, Blue Bend offers their clients the best of both worlds. "Generally right after the ceremony we will take formal group shots of your family, friends and wedding party. We specialize in photojournalism, but also understand the importance of traditional formal portraits of you and your family. Also, throughout the night we will be taking pictures of groups of people as you think of them or we see them happen," said a company spokesperson.
Five photographers make up the Blue Bend team and together they offer 35 years of combined wedding photography experience. Each member of the team has extensive knowledge of the Asheville and Charlotte areas.
For more information about Blue Bend and their expansion to the Charlotte area, visit http://www.bluebendphotography.com
About Blue Bend Photography
BlueBend Photography is comprised of premiere wedding photographers that cater to the Asheville and Charlotte area. Blue Bend's photographers have 35 years of combined experience in wedding photography and have been the company of choice for hundreds of newlyweds. Blue Bend Photography is a proud member of WPJA and has had their work published in many regional and national magazines.