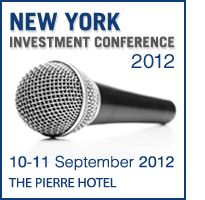 The exclusive 2012 BCA Research New York Investment Conference, September 10-11 at the Pierre Hotel, is now 80% sold out.
Montreal, QC (PRWEB) July 26, 2012
For over 40 years, BCA Research has hosted exclusive annual investment conferences. With the 2012 event now 80% sold out, any window of opportunity to attend the meeting is closing.
Based on the highly complex and uncertain outlook for investors, this year's meeting will feature a wide range of experts to debate the following topics:
> Will the euro survive in its current form?
> Are central banks destroying fiat money?
> Is China destined for a hard landing?
> Is the financial sector in secular decline?
> How risky are equities?
"We are tremendously excited about this year's event", says Martin H. Barnes, Chief Economist of BCA Research, "Having such a diverse group of expert speakers including Marc Faber, Richard Bernstein, David Rosenberg, David Stockman (former Budget Director under President Reagan) and Michael Pettis (Professor of Finance, Peking University), it is impossible not to expect stimulating debate and discussion. We are confident our conference attendees will find the event both informative and thought-provoking".
Click here for the BCA 2012 New York Conference Agenda.
About BCA:
Founded in 1949, BCA Research has developed an enviable reputation as a world leader in the provision of independent global investment research. The firm produces leading-edge analysis and forecasts of all the major asset classes, along with clear and focused investment strategy recommendations. Research is provided to financial professionals in more than 90 countries through a wide range of products, services and meetings.