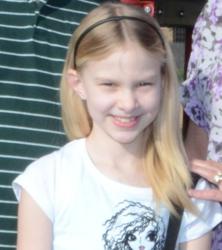 Oak Brook, Ill. (PRWEB) July 24, 2012
WHAT: Only months after collapsing on her school playground from a near fatal cardiac arrest, nine-year-old Caitlyn O'Reilly will have the thrill of a lifetime as she hurls the first pitch during the Cub's game on July 29. Quick action by school officials and clinicians at Advocate Hope Children's Hospital saved the Oak Lawn girl's life just moments after she suffered a heart attack. Now that she's on the road to recovery and returning to regular activities, Advocate Health Care teamed up with the Chicago Cubs to give her a once in a lifetime opportunity to toss the first pitch on Chicago's Wrigley Field. Caitlyn's family, along with the doctors and nurses who helped save her, will be there to cheer her on.
WHEN: Sunday, July 29 at 1:20 p.m.
WHERE: Wrigley Field, Chicago
WHO: Area Reporters
Interview/Photo/Videotaping Opportunities:
Representatives of the news media are invited to interview Caitlyn, family members, and caregivers.
_____________________________________________
One minute Caitlyn O'Reilly was enjoying recess with her classmates at Hannum Elementary School in Oak Lawn, the next minute the nine-year-old collapsed from a near-fatal heart arrhythmia. Using an Automated External Defibrillator (AED), a teacher and school nurse shocked Caitlyn's heart back into rhythm and saved her life. Caitlyn was rushed to Advocate Hope Children's Hospital where her pediatric cardiologist worked to stabilize her.
Caitlyn's doctors were initially concerned about possible brain damage due to a lack of blood flow from the incident but she is on her way to a full recovery. The girl is no stranger to hospitals, though. Caitlyn was born with a hole in her heart and has already undergone two open-heart surgeries to repair the defect.
While Caitlyn has recovered quickly, her journey isn't over. She is scheduled to undergo electrophysiological studies of her heart and the placement of a permanent internal defibrillator in the near future.
Caitlyn's mom Joanne stressed the importance of having an AED close by. "They need to be everywhere," she said.
About Advocate Health Care
Advocate Health Care, one of the nation's top health systems based on clinical performance, is the largest health system in Illinois and one of the largest health care providers in the Midwest. Advocate operates more than 250 sites of care, including 10 acute care hospitals, two integrated children's hospitals, five Level I trauma centers (the state's highest designation in trauma care) and two Level II trauma centers, one of the area's largest home health care companies and one of the region's largest medical groups. Advocate Health Care trains more than 2,000 residents, medical students and fellows at its three major teaching hospitals. As a not-for-profit, mission-based health system affiliated with the Evangelical Lutheran Church in America and the United Church of Christ, Advocate contributed $571 million in charitable care and services to communities across Chicagoland and Central Illinois in 2011.