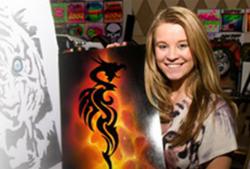 "You think you know everything until you talk to Scott." —Plotter student and Disney artist Brian Brimmer
Allenwood, NJ (PRWEB) July 23, 2012
Want to learn how to cut your art production time and costs by up to 60%? Then come to Vegas this fall. That's when the Airbrush Getaway will conduct another exceptional Plotter Mastery workshop—the first in Orlando last spring having won wide praise from attendees.
Celebrating its 24th anniversary, the Airbrush Getaway, produced by Airbrush Action magazine, will be staged at the new Tropicana Las Vegas Hotel at 3801 Las Vegas Boulevard S., Las Vegas, NV from Monday, October 8, through Friday, October 12.
Plotter Mastery's instructor Scott MacKay, a world-class automotive artist, uses the plotter in his own shop to enhance hand-work and production at all levels. During the class he will demo digital design, manipulation and merging of artwork to take students through two complete start-to-finish projects. Students will also learn how to maximize work flow, improve quality control, create instantaneous design duplication while eliminating surface cuts, re-masking, and how to slash your costs and production time by up to 60%.
Reviews for Plotter Mastery:
"You think you know everything until you talk to Scott." — Plotter student and Disney artist Brian Brimmer
"It makes me realize how far we can go. I'm going home, tearing down my bike, and redoing it." — Quincy Russell of Cenla Customs
About Airbrush Action Magazine's Airbrush Getaway:
According to Airbrush Action publisher Cliff Stieglitz, the internationally esteemed Airbrush Getaway is ideal for artists and non-artists seeking to learn new skills or take their art to professional levels. "Students come away learning how to make thousands of extra dollars airbrushing, and many claim that what they learn in four or five days at the Airbrush Getaway would take years to learn on their own," Stieglitz explained. "It's the world's finest and largest airbrush workshop program."
Other courses include Introduction to Airbrushing, Airbrush Mastery, Ultimate Airbrush Effects, Automotive Graphics, Achieving Photorealism, Power Portraits, Airbrush Tattoos, Body Art, and many more. For discounted room reservations, call 800-634-4000 and mention "Airbrush Getaway Workshop, group code SAIR10." A one-day T-shirt Lettering Boot Camp will be held on Monday, October 8. For more information, call 800-876-2472 (international callers: 732-223-7878), or visit http://www.airbrushaction.com.
About Airbrush Action Magazine:
Founded by Cliff Stieglitz in 1985, Airbrush Action is the longest publishing airbrush magazine in world history. Distributed internationally through Barnes & Noble, Books-A-Million, 7-11, all military branches, and many other mainstream outlets, Airbrush Action is edited for airbrush enthusiasts and art professionals. It covers all popular applications of airbrushing, including body art, automotive custom painting, T-shirt airbrushing, tattoo art, pin-up art, hobby/model uses, illustration, fine art, and more. For more information, visit http://www.airbrushaction.com.
*More images available on request
For interview opportunities and media requests, please contact Bridget Dean at 540.842.7776 or bridgetdeanpr(at)gmail(dot)com.
# # #