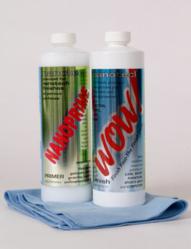 "Once you use WOW! you will never go back to rubbing polish or paste. In fact, you won't stop saying WOW! Try it and see for yourself?
(PRWEB) July 21, 2012
Taking their cues from nature by observing the lotus flower which has a very high water repellence exhibited in the leaves, scientists have researched this phenomenon and found that the "Lotus Effect" is not a biological but a physical-chemical phenomenon and can be emulated by using physical-chemical variables.
Small particles on a nanometer scale, so called nano particles or Polymers are being used in today's car and boat polishes and waxes. Consumers can now enjoy the great benefits of the "Lotus Effect" in their daily lives. The ability to utilize this technology provides a huge opportunity for almost every surface in every industry.
Nanotech WOW! is a product on the cutting-edge of this technology for waxes and polishes. It is designed to provide the greatest surface protection in the most environmentally friendly way. Its Polymer particles are so fine, they bond to and penetrate any surface better than any regular waxes or polishes on the market.
WOW! makes maintenance of a boat or car easier by sealing the surface and offers an invisible protective barrier that simply does not wear off like wax does. WOW! can be applied to any surface above or below the water line. It provides UV protection and reduces friction for better mileage and less drag.
This most advanced polish known is eco-friendly, safe and easy to use. Application and clean-up is a breeze. It beats any traditional waxes and polishes.
Nanotech WOW! can be used on Jet Boats, Jet Skis, Snowmobiles, Cars etc. To order and get more information go to Helmar Distributors.