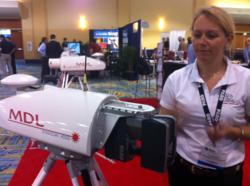 Houston, TX (PRWEB) July 21, 2012
In the article, MDL's new offering was described as a way to give "even the smallest survey organizations' a way to get into mobile scanning." Here's a selection from the feature story:
While it is not unusual for municipalities or asset owners to "rent" mobile scanning services from service providers on some kind of daily collection rate, Measurement Devices Ltd. (MDL) has announced it is pushing this rental idea further up the food chain, allowing service providers to rent its Dynascan mobile scanning system, and soon its newly introduced high-accuracy S250 line and Faro Focus3D integrated mobile system, on a project basis.
"Anybody can get into the game now," said Travis Reinke, COO of Measurement Devices US.
But has mobile scanning really gotten that easy, that systems can be rented like a truck from UHaul?
"No, I wouldn't go that far," chuckled Reinke. "We want to make it easy enough so that they can pick it right up and do it," he said, "but there's still a lot more to it right now."
For the time being, he said, MDL wouldn't even rent to a service provider who hadn't used the system before or been trained on it. "It's not rocket science," Reinke said, "but it's not a cakewalk either." That's why MDL has assembled its Technical Services division to provide support on initial jobs, provide training, and provide back-office data processing support after the collection has been done.
Read the full story written by Sam Pfeifle at SPAR Point Group: Mobile scanning systems - for rent?.
About Measurement Devices Ltd.
Founded in 1983, MDL is a global pioneer and world leader in the design and manufacture of high speed laser measurement and surveying systems for use in extreme environments. Their products range from simple laser modules to complex 3D laser surveying and imaging systems. A number of MDL's products have become industry standard including the Fanbeam® laser radar for dynamic positioning, the Quarryman® 3D rock profiling systems used in hard rock mining operations, and more recently the Dynascan portable 3D mobile mapping system.
MDL offers hardware and software sales and rental, and market-focused training and support services. Its rugged laser-based measurement tools are the most durable in the industry. MDL is committed to providing easy access to the equipment and resources their clients need to successfully complete their projects on-time and under budget while strengthening their existing services and pursuits.
For more information, contact:
281.646.0050 Main
http://www.mdl-laser.com
Like MDL on Facebook
Follow MDL on Twitter