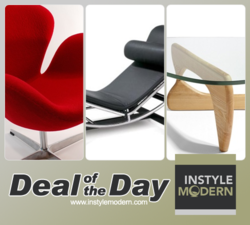 (PRWEB) July 23, 2012
InStyleModern.com launches the exciting Deal of the Day promo for customers who choose to order online. From bar chairs to dining tables to ottomans, to lighting fixtures, love seats, and outdoor furniture to office furniture, several exciting deals are offered in the site on a regular basis. Expect big savings every day on some of the most beautiful modern furniture in the market, with the added convenience of shopping via the Internet.
Simply click on the Deal of the Day banner on the top part of the home page to see all the current furniture pieces being offered at discounted rates. Customers get great savings every day!
To get first dibs on the best Deal of the Day, InStyleModern has a Facebook page for customers to view and get regular updates.
Regular prices on new home and office furniture and accessories get significantly slashed, but must be ordered before the deal expires. From classic to ultra-modern designs, there is bound to be an InStyleModern piece to go with any home or office interior design project. Selected pieces falling under the Deal of the Day come with BuySafe 3-in-1 guarantee: customers receive an ID theft protection, a purchase guarantee, and a lowest price guarantee with each purchase.
New and returning customers are encouraged to create an account at InStyleModern.com and to join the mailing list for straightforward browsing, alerts to exciting promos and discounts, and convenient shopping in a virtual showroom set-up.
The Deal of the Day is a great way for home and office interior designers to turn their exciting visions into reality at a fraction of the price which other home furnishing stores offer.
The website presents products, shipping information, discount and sale offers, plus the deal of the day with an easy and navigable home page. An impressive slideshow features some of the company's best-selling furniture and accessories for both home and office.
InStyleModern ships to 48 US states via FedEx, and offers a 30-day money-back satisfaction guarantee. Most orders are shipped within one to two days.
A customer representative is available for any queries or concerns. Customer service hours for InStyleModern.com are from Mondays to Fridays, between10:00 a.m. to 4:30 p.m.
Further information on InStyleModern.com products and promos can be had via free live chat, or by emailing Info(at)InStyleModern.com. InStyleModern can also be reached at phone number 908-279-1100.