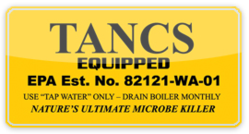 Lake Forest, IL (PRWEB) July 20, 2012
Leading marketer of vapor steam cleaners, 1-800-GO-VAPOR.com, announced today that the top-selling vapor steam cleaner on their website for the first six months of 2012 was the Ladybug Tekno 2350 steam cleaner. The premium steam cleaner has appealed to consumers and businesses nationwide that are looking to ditch their toxic cleaning products for an easier, safer and faster way to clean.
The Tekno ships standard with Ladybug's proprietary patented TANCS® technology.
Coming in at No. 2 was the Ladybug XL2300 steam cleaner, which offers TANCS® as an option.
Steam cleaners equipped with TANCS® qualify as a disinfection device for the U.S. Environmental Protection Agency.
"That our highest priced steamer overtook the XL2300 as our best-selling steam cleaner doesn't shock or stun me," says V. K. Dunlop, a vice president at 1-800-GO-VAPOR.com. "It's an amazing device with a performance level too stunning to go unnoticed."
According to Dunlop, most buyers want TANCS®, and it appears that adding $250 to the price of a Ladybug XL2300 steam cleaner for the option, which is standard with the Tekno, put the Tekno into the top position.
"The TANCS® System has shown extraordinary results in laboratory tests," says Benjamin Tanner, president of Antimicrobial Test Laboratories. "A 99.9999% reduction of MRSA and VRE on surfaces within 5 seconds is a level of performance that chemical disinfectants may never achieve."
According to Chuanwu Xi, Assistant Professor in the Department of Environmental Health at the University of Michigan, "Scientific studies have found that biofilms can be up to 1000 times more resistant to biocide inactivation than are suspended microbes. It is extremely difficult to get rid of biofilms and kill them. The efficacy of the steam vapor system is important because even strong chemical disinfectants such as bleach when allowed 20 minutes of dwell time did not achieve the same degree of kill that the TANCS®-equipped unit accomplished in three seconds."
Located in Lake Forest, Illinois, 1-800-GO-VAPOR.com is moving fast to educate consumers and businesses that finally, there's a feasible, environmentally friendly alternative to chemicals. With customers in every state in the nation and seven foreign countries, the company maintains an A+ rating with the Better Business Bureau and markets Reliable, Vapamore and Ladybug steam cleaners worldwide. For more information, call 1-800-468-2767. 1-800-GO-VAPOR.com is a proud member of the Safer Chemicals, Healthy Families coalition, a nationwide effort to protect families from toxic chemicals. To stay safe and avoid toxic chemicals, keep abreast of the latest news with 1-800-GO-VAPOR.com's Twitter account, @1800GOVAPOR.