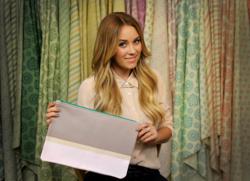 Lauren Conrad says, " I love to create useful things out of unexpected, everyday items. By incorporating online video, we are taking the content on LaurenConrad.com to a whole new level."
Los Angeles, CA (PRWEB) July 19, 2012
Lauren Conrad, designer, New York Times bestselling author, TV star and online influencer launches an original video program, "Lauren Conrad's Crafty Creations" premiering on Thursday, July 19 on LaurenConrad.com. The show will also appear on top YouTube fashion and beauty channel, u look haute. "Lauren Conrad's Crafty Creations", which will run between 2 and 5 minutes per episode is produced by Lauren Conrad and EQAL Media Studios.
Original episodes of "Lauren Conrad's Crafty Creations" will premiere weekly each Tuesday and Thursday for an initial run of 22 episodes. In the show, Lauren Conrad demonstrates how to create useful fashion, home and lifestyle goods from scratch. Using household items or basic supplies, Lauren demonstrates how to create something both useful and aesthetically-pleasing with her easy and quick DIY tutorials.
Lauren Conrad says, "I love to create useful things out of unexpected, everyday items. There's something really lovely about transforming odds and ends into beautiful, functional objects and I am excited to share that process with my fans. By incorporating online video, we are taking the content on LaurenConrad.com to a whole new level. To me, video is a wonderfully personal way for me to share my passions with the amazing community on my website. I am really looking forward to connecting with my audience in this new capacity online and am eager to hear their feedback about the videos."
Rob Weiss, EQAL's Chief Operating Officer notes, "Lauren Conrad is a true online influencer and her passion for fashion, lifestyle and crafts fits perfectly into the kind of videos we are making and having success with finding an audience for online. With EQAL Media Studios, we can take a traditional TV star and professional production quality and create niche content specifically for online consumption with shows like 'Lauren Conrad's Crafty Creations.'"
Initial episodes include:
7/19 Premiere: Washer Bracelet – Find out how to make a stylish bracelet using ribbon, washers, scissors and tape. A fun and wearable accessory in minutes.
Floral Arrangements – Fresh flowers totally enhance your home space but arranging them can be tricky. Check out these DIY tips.
Headband – Homemade headbands guarantee that you'll never be caught with the same hair flair as someone else. It's a quick and easy DIY that won't break the bank.
Bib Necklaces – Find out how to make a stylishly inexpensive lace bib necklace using only an old shirt, a chain, and some ribbon.
Revamped Clutch – Using only tape and a few coats of paint, here's how you can turn last year's boring old clutch into this season's must-have item.
Other projects include table décor, decorative bulletin boards, accent pillows, necklaces, bookshelves and more exciting easy to accomplish DIY projects.
Lauren Conrad has an active and engaged online and social following including her community at LaurenConrad.com, Twitter, Facebook, Pinterest and other applications. LaurenConrad.com averages 4-5 million monthly page views, with over 25 million visits, more than 2.7 million Twitter followers, close to half a million Facebook fans and multiple active Pinterest pages that follow the inspirations of the subjects on her website – all12 of her individual boards have close to 200,000 followers per topic. When more than 10,000 of Lauren's followers gathered on her site to pre-order her latest New York Times bestseller, "The Fame Game," Lauren took to LaurenConrad.com for a live interactive webcast with her fans. "Lauren Conrad's Crafty Creations" is the latest addition to a fan friendly, interactive site that features daily posts, a book club, photos, designs, recipes and is overall an inclusive community for all things Lauren Conrad.
LaurenConrad.com is an EQAL Media Network.
"Lauren Conrad's Crafty Creations" is an EQAL Media Studios Production. EQAL Media Studios produces "Beauty Vlogger Boot Camp," "The Haute List", "ReNailz" and more. The New York Times recently referred to EQAL Media Studios' u look haute YouTube Original programming as one of "a few tasty morsels" that "could, with minor modifications, look at home on television, and the production values on many of the new channels are comparable to those on the lower and middle regions of cable." Following this announcement, EQAL Media Studios will announce a new slate of programming in the coming weeks.
For more information on Lauren Conrad, please contact:
Nicole Perez nicole.perez(at)pmkbnc(dot)com (310) 854-4756
For more information on LaurenConrad.com and EQAL Media Studios, please contact:
Jill Siegel jill(at)EQAL(dot)com 917.214.1710