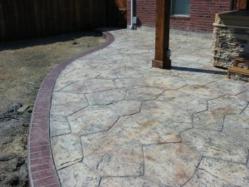 "Our design experts will fashion a distinctive solution that will amaze your eyes and "wow" your friends and clients." - Brad Kinsman of Artisan Decocrete
Dallas, Texas (PRWEB) July 31, 2012
One of the most noticeable trends in the architectural and home design industry right now is the incorporation of the outdoor living area. These unique and versatile areas give home owners an additional space for entertaining, relaxing and enjoying the outdoors. Artisan Decocrete, in Plano, Texas, is currently offering custom decorative concrete outdoor living area design and installation services throughout Dallas, Plano, Denton and the surrounding North Texas areas.
An outdoor living area typically includes a variety of features, from stamped concrete surfaces, to concrete benches and sitting areas, and even outdoor kitchens featuring concrete countertops. Artisan Decocrete provides design and installation services for these and a variety of other decorative concrete elements like acid stained concrete flooring, fireplace resurfacing, epoxy flooring and concrete overlays.
North Texas makes an ideal location for including an outdoor living area since the climate is so warm. Many people in the area tend to spend the bulk of their time outdoors, so adding an outdoor living area is a practical addition that increases the value of any home.
Artisan Decocrete has been providing decorative concrete services in Plano and North Texas for over ten years, and has earned an A+ industry rating. Their dedication to customer service and quality craftsmanship is apparent in each decorative concrete project they complete. For more information on their services, including custom stamped concrete, decorative concrete flooring and stained concrete flooring, please visit them online.