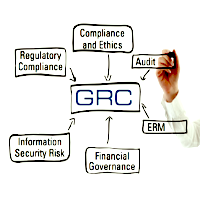 I'm very pleased with the conference – it was time well spent. I feel inspired and empowered to design and implement a GRC program for my company.

Chicago, IL (PRWEB) July 23, 2012
The 7th annual Governance, Risk Management and Compliance Summit is coming to Chicago on October 23-25, 2012! Attendees will learn the benefits of a coordinated GRC framework that converges traditional business silos and enhances enterprise wide efficiency.
The GRC Summit is the only conference available that provides a comprehensive view of the GRC framework. Risk, Compliance, IT and Audit Executives will gather to learn from industry peers about the importance of an integrated approach to corporate governance. Award winning case studies from the following organizations will be presented:

PETCO
Smith & Wesson
Paychex
Lockheed Martin
Ryder
Northwestern University
Health Care Service Corp.
SAP
Don't miss out on this educational experience! Unlike other industry trade shows the GRC summit focuses on real life examples and tested GRC methodologies. Attendees will learn what GRC is, the necessary components for successful integration, how to align a GRC program with your current business objective, obstacles encountered and practical solutions.
The GRC Summit offers multiple networking sessions, receptions and luncheons. Join us on October 23-25, 2012 to learn from your peers about the growing necessity of an integrated control framework.
For more information including a full speaker lineup and conference agenda please visit The GRC Summit online at http://www.theGRCSummit.com. For registration and sponsorship information contact Mark Awit at Mark(dot)Awit(at)gsmiweb(dot)com or call 888.409.4418 ext. 710.