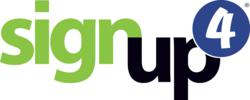 With this acquisition, SignUp4 will continue to offer cutting edge personal experiences to the meeting attendee, now extended to their mobile device
Atlanta, GA (PRWEB) July 24, 2012
SignUp4 (http://www.signup4.com), a leading provider of strategic meetings management software, today announced the acquisition of RappidApp, a leading software company specializing in the user driven creation of mobile applications. Users of the new product will be able to create and maintain their own robust mobile presence for their events as a native smartphone application. This acquisition provides SignUp4 with a platform for expanding their solutions for current customers as well as an offering for new markets. The deal expands SignUp4's current suite of event, travel, and spend management products to now include mobile platforms.
RappidApp (http://www.getrappidapp.com), a flexible Content Management System, offers the ability for a non-technical user to build custom native mobile apps. RappidApp was created by Smack Dab Studios, an award-winning Web development firm based in Savannah, GA. Leveraging RappidApp's platform, new applications can be created at a fraction of the normal development cost, making real-time content management for mobile apps a reality. These native cross-platform applications provide mapping, directions, multiple content pages, agendas, QR code scanning, and additional features.
"It's an exciting time for us at SignUp4 as we incorporate the existing RappidApp mobile technology to enhance and expand our robust suite of event management solutions. RappidApp is considered the smartphone app of choice for attendee engagement and is complementary to SignUp4's core offerings. With this acquisition, SignUp4 will continue to offer cutting edge personal experiences to the meeting attendee, now extended to their mobile device," said Nick Romano, President and Co-Founder of SignUp4. "Because this technology was originally designed to allow any user to simply create their own apps, upload logos and graphics, and manage content, it is a good companion for our easy-to-use website utilities. Corporate meeting planners as well as other groups have embraced RappidApp's tool to create attendee engagement solutions at a fraction of the cost of custom-developed apps, which is a real win for business."
SignUp4 will leverage their US-based development staff to further integrate the products to provide a seamless experience, however RappidApp will also be available for non-SignUp4 customers to provide a cost effective mobile solution for their event needs.
About SignUp4
SignUp4 is the innovative meetings intelligence provider, offering the highest quality event management and strategic meetings management solutions, with an affordable unlimited usage model. Founded in 1999 and backed by an experienced team of technology and event management experts, we are driven by a single objective- to design, develop, deliver, and support the most reliable, cost-effective event management tools. To ensure we meet the needs of our clients and the demands of the evolving meetings industry, we develop new features and functionality every 5 weeks, on average producing over 1,000 updates annually. The goal of SignUp4's meetings intelligence is to streamline workflows, simplify and drive registrations, efficiently manage travel logistics, improve communications, and provide visibility into meeting spend for leveraging contract negotiations and increasing ROI. With over a decade of experience, 3,200 users and over 80 of the Fortune 500, we understand the value of your time and events.
About RappidApp
An exciting mobile app platform, RappidApp streamlines and simplifies the mobile app development process. This groundbreaking platform allows for the creation of native apps, which are completely customizable through a web-based content management system that eliminates the need for developers. With RappidApp, users can customize every detail of app design & content, guaranteeing app-users a consistent and well-branded mobile experience. Users can update content and view changes inside the app in real-time. Easy to use, RappidApp is quick-to-market and loaded with the robust features of a true native app.