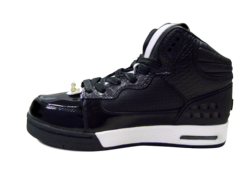 These are amazing shoes." "They skate really good, especially when I skate straight. - Skater Dominick Davis
Miami, FL (PRWEB) July 20, 2012
Fele Holding Corporation (FHC Global), makers of the world's first GPS shoe, has announced its latest offering, the ToVo® brand of footwear. Designed for skateboarders, the first ToVo® product on the market is 3rd Rail, featuring an exchangeable tongue, and comes packaged with an alternate fashion tongue that allows the wearer to mix and match colors. ToVo® is launched by inventor Isaac Daniel, CEO of the Miami-based company that gained worldwide attention with the introduction of Global Positioning System (GPS) technology in footwear.
A limited release of the ToVo® 3rd Rail is now available for sale online just in time for back to school shopping. Customers who order before September 1st will receive a 2nd tongue to create even more fashion looks. ToVo® 3rd Rail shoes retail for $100, and can be purchased at [http://www.iamtovo.com.
ToVo® 3rd Rail is engineered with cutting-edge ergonomics that provides the wearer with great fit, traction and superior comfort. The shoe's foam-padded collar offers enhanced cushioning at the ankle and the polyurethane midsole and heel airbag unit gives the wearer additional support upon impact, especially designed for tricks.
The ToVo® shoe was recently previewed at the inaugural Go Skateboarding Day event in Naples, FL on June 21st. The event, celebrating global Go Skateboarding Day, was the perfect opportunity to connect with teen and young adults.
Several teens were given the opportunity to test the ToVo® shoes while skateboarding and they received rave reviews. Many remarked how comfortable the shoes were compared to the ones they were wearing. "These are amazing shoes. I love them!" remarked skater Dominick Davis. "They skate really good, especially when I skate straight."
"My son is a skater and his feet and ankles get pretty banged up all the time, so I decided to create a shoe that would protect the boarder's feet from all the abuse of die-hard skateboarding," says CEO, Isaac Daniel. "I also wanted to give skaters an opportunity to showcase their individuality and style with the alternate tongue colors."
Daniel's ToVo® footwear is designed with future technology in mind and he is currently developing a style due out in Spring 2013 that will have technology that provides a fun, interactive experience for the wearer.
For more information and updates on the ToVo® Footwear Collection, please follow us on Twitter at http://www.twitter.com/iamtovo1, or "Like" the shoes on Facebook at http://www.facebook.com/iamtovo.
About FHC Global
FHC Global is family of companies specializing in advanced technology development for products and services. Products include communication, multi-media, satellite and GPS positioning, for use in consumer and commercial products as well as related accessories. FHC Global is dedicated to the integration of innovation, corporate responsibility and community conscience.
FHC Global is affiliated with Isaac Daniel Group, a management company responsible for bringing new products to market. Scientist and inventor Isaac Daniel's vision and goal is to develop unique products and leading edge technology designed to help organizations and individuals work and live intelligently.
Contact Info:
Dave Sanderson / Jocelyn Petteway
Isaac Daniel Group, Inc.
305-371-5858
David(dot)Sanderson(at)isaacdanielgroup(dot)com or Jocelyn(dot)Petteway(at)isaacdanielgroup(dot)com