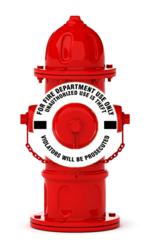 "Fire hydrant rings can be an incredibly useful tool for firefighters. They can even make the difference between losing an entire house or just a room," said Cole Paulson, Manager at MySafetySign. "Hydrant markers keep the community safe."
Brooklyn, New York (PRWEB) July 23, 2012
MySafetySign.com, a premier retailer of fire safety equipment, has released a new line of fire hydrant rings. These new markers are placed under a hydrant's valve to indicate functionality problems and promote fire safety throughout communities.
According to the National Fire Protection Association (NFPA)'s website, there were 1,331,500 fires in the United States in 2010, resulting in 3,120 deaths and $11.6 billion in property damage. Due to the potential for such extensive damage, nearly every municipality and business treats fire prevention as a primary concern.
MySafetySign's hydrant rings are available in six colors, each of which indicates a specific issue with a hydrant's ability to function, such as low water pressure. The new line also includes rings with printed messages, such as "Out of service" and "For fire department use only." These messages, together with a ring's color, are quick and easy ways for firefighters to discern that a hydrant isn't working properly and identify issues with the hydrant. "Fire hydrant rings can be an incredibly useful tool for firefighters. They can even make the difference between losing an entire house or just a room," said Cole Paulson, Manager at MySafetySign. "Hydrant markers keep the community safe."
The heavy-duty plastic rings are placed underneath the hydrant's valve to ensure that would-be vandals will be unable to remove the ring without completely dismantling the hydrant. The available reflectivity can assist firefighters in the darkness, since even a dim light will reveal a ring's presence on a hydrant.
The new hydrant markers come in both 35mil plastic and 43mil reflective plastic, both of which are highly resistant to the elements. Due to the rings' strong composition, these markers will last at least five years, even in more severe climates.
About MySafetySign.com
MySafetySign is the Web's largest store for safety signage. The company's mission is to make signs and labels as effective as possible in order to prevent accidents and save lives. Customers can choose from over 40,000 designs and customizable templates.
About SmartSign
SmartSign is one of America's fastest-growing e-commerce companies and parent of MySafetySign.com, MyParkingSign.com, as well as more than 50 other sites. The company manufactures and distributes a wide range of signs, tags, mats, and labels. In the past, many consumers have found it hard to find, hard to design and hard to order signs with the right message. By positioning "signs as solutions," SmartSign has taken an entirely different approach. Through highly targeted, content-rich, and authoritative retail sites, the company provides specific solutions to specific problems, such as protecting a gas station. SmartSign is widely recognized for its quality construction; its signs come with a 3M® warranty and outlast fast-fading, ink-jet signs. Other SmartSign advantages include fast and free shipping, the Web's largest range of designs, and a best-price guarantee.