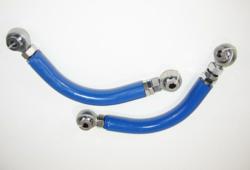 The CorkSport Rear Camber Arms allow you to fine tune your camber to exacting settings. The ease of adjustability and the unique nature of the spherical bearings will provide customers with improved cornering control that can't be outmatched
Vancouver, WA (PRWEB) July 19, 2012
CorkSport, a leading manufacturer and reseller of Mazda aftermarket performance parts, is pleased to announce the addition of the CorkSport Mazda and Mazdaspeed Adjustable Rear Camber Arms to its growing list of suspension products.
By replacing the stock camber arms with the CorkSport Adjustable Camber Arms, customers are able to adjust their suspension to accommodate for lowering springs or coilovers and fine tune their Mazda or Mazdaspeed to the appropriate camber setting needed to balance uneven tire wear and improve cornering performance.
The CorkSport Mazda and Mazdaspeed Adjustable Rear Camber Arms are made from reinforced high strength extruded bent steel tubing that is stronger, less brittle and more durable than aluminum. The adjustability provides precision tuning by allowing for +/- 5 degrees of camber adjustment and can be easily adjusted while installed on the vehicle using just a wrench.
Unlike other adjustable camber arm options on the market, CorkSport's unique design includes spherical bearings that replace the soft rubber bushings on the OEM camber arms, providing a true attachment to the suspension of the vehicle for improved handling and road feel.
"The CorkSport Rear Camber Arms allow you to fine tune your camber to exacting settings," said CorkSport Engineer, Brydon Foster. "The ease of adjustability and the unique nature of the spherical bearings will provide customers with improved cornering control that can't be outmatched by any other options on the market today."
The CorkSport Adjustable Rear Camber Arms are available for all Mazdaspeed 3 and Mazda 3 vehicles as well as Mazdaspeed 6 and 2004-2008 Mazda 6 vehicles. They can be purchased as a set from CorkSport Mazda Performance for just $199.00 today.
For more information about the CorkSport Adjustable Rear Camber Arms, please visit http://www.corksport.com/corksport-rear-adjustable-camber-arms.html
About CorkSport:
CorkSport, a leading manufacturer and reseller of Mazda aftermarket performance enhancement products was founded in 1998 by Derrick Ambrose and Richard Harris. CorkSport's leading technology and innovation, lean manufacturing expertise, and global distribution network deliver world-class products, brands and service at a competitive cost. The company is headquartered in Vancouver, Washington and has dedicated itself to offering high level performance products and support for Mazda vehicles. Today, CorkSport is among the oldest of the aftermarket parts manufacturers in the United States exclusively serving the Mazda market. Visit CorkSport online at http://www.corksport.com