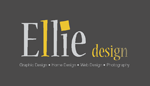 Greenwich, SQ / Ashburn, VA (PRWEB) July 20, 2012
A few months after the company's official launch, Ashburn-based Ellie Design has updated their website as well as the web design packages they offer to clients.
The company has rebranded the three website design packages featured on their site. These are now called the Bronze Package, the Silver Package, and the Gold Package. Each one has its own set of features and options. The Bronze Package costs $99 per page and comes with a custom design developed in conjunction with the client. It has first page keywords and can be revised twice should the client wish to tweak the appearance further. Afterwards, Ellie Design would submit it to the different search engines such as Google and Bing. Meanwhile, the Silver Package is priced at $139 per page and is eligible for five revisions. Customers who opt for this service will get their own pages on Google+ and Facebook, as well as a Twitter account. Ellie Design will also provide them with five article submissions. Finally,the Gold Package's price is $179 per page, and it offers unlimited design revisions. Every aspect of the website will receive the special Ellie Design treatment. For example, clients will get a free domain name good for one whole year, 50 directory submissions, five press releases, Facebook and Google+ pages, 100 social bookmarks, and various other features that ensure the websites will have a high rank on search engine results. Upon hiring Ellie Design, clients would only have to pay a deposit for the first three pages and the team can start work on creating the commissioned sites within 24 hours.
Ellie Design credits its promising success to its ability to foster excellent relationships with its clients. The firm sets itself apart from similar businesses with an intensive customer-focused approach. Each client engagement is a collaboration that ensures customers get the perfect website design that they envision. Representatives are in constant communication with clients throughout the entire process of coming up with a concept and then turning it into a reality. This manner of doing business has proven to be particularly effective for Ellie Design as evidenced by the glowing online reviews they've received from customers. In addition, the company offers a money back guarantee, which is a feature that most firms are not able to match.
Based in Ashburn, Virginia, Ellie Design is the brainchild of a dynamic group of young professionals with a strong background in design. To know more about the company, interested parties may reach their offices by phone or visit their website, http://ellie-design.com.