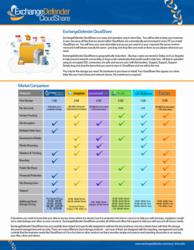 CloudShare combines everything SMBs love about the cloud with the safety and security of being able to get to their data no matter what. Syncing PC data everywhere and bringing cloud Exchange data into an on premise appliance fits that need.
Orlando (PRWEB) July 20, 2012
CloudShare is powered by the trusted ExchangeDefender platform; known for its robust features, military grade encryption, and security protocols. The platform is the source of and provides protection for all of its email security, chat and web products. CloudShare provides an exciting, new, local file sync feature, which allows clients to leverage the cloud service to synchronize documents across multiple PCs, while only accessing the cloud to sync information changes. This allows users to access their files and make modifications quickly, without waiting for files to download. By removing the need to manage files "in the cloud" with a limited functionality editor, CloudShare is able to eliminate the problem which has plagued competing solutions. Data integrity, backup, and redundancy is also completely handled; by replicating data across multiple, secure data centers, CloudShare provides a robust solution and adds an additional layer of security, with access to logs and security controls.
"While most established small business customers love the features and flexibility the cloud provides, they do not trust cloud providers to take care of all of their vital business information. While the web office applications have gotten better through the years they are still far from comparable substitutes for the full Microsoft Office Word, Excel and PowerPoint products everyone is accustomed to," says Vlad Mazek, CEO of ExchangeDefender.
"We have found a way to reconcile the small business demand for cloud flexibility and agility with CloudShare. The SMB preference for full-functionality office products gave us a guideline to adapt the platform to work the way users works today. With higher demand for mobility, most of the work is done over the cloud, so it stands to reason that those files should be stored in the cloud, where economics of scale can make the kind of redundancy, security audits, backups and access flexibility possible. Furthermore, with our CloudShare software, the behavior of the desktop does not change – files are still available locally and can be accessed as fast as any other file on the desktop. Sync, reporting and backups are done on the backend without client interaction and without purchasing expensive backup and encryption products."
CloudShare is available immediately through ExchangeDefender's global partner network, providing branding and support in more complex environments. For businesses that require a local storage device, CloudShare will have an available appliance option that will store all cloud files, documents, emails and other content uploaded to the cloud, on a local network device. This option is slated for a Q4 release. "With the transition of work taking place with and through the cloud, expensive servers and BDR's (Backup and Disaster Recovery) solutions no longer make financial sense. We have built CloudShare to enable our partners with the ability to deliver a solution that shifts the server component to the cloud, while keeping the documents local and accessible, giving small business user's access to their information in a manner in which they are used to."