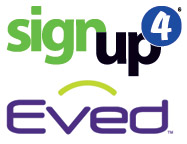 Our customers will realize process improvements with electronic invoice data, now automatically integrated with our Spend Management System.
Atlanta, GA /Chicago, IL (PRWEB) July 23, 2012
SignUp4 (http://www.signup4.com), a leading provider of strategic meetings management software, and Eved (http://www.eved.com), the market leader in Event Commerce, today announce the integration of their technology solutions to allow SignUp4 customers to efficiently track actual meeting and event spend against their budgets for full visibility and cost control.
"We're thrilled to partner with Eved. This allows us to reach an even broader audience of meeting planners and travel professionals," said Matthew Hodge, Vice President of Sales, SignUp4. "SignUp4 customers will immediately benefit from increased spend visibility with budget versus actual data for their meetings and events. Our customers will realize process improvements with electronic invoice data, now automatically integrated with our Spend Management System."
"Eved offers a cloud-based e-Commerce Platform with a complete Source-to-Pay solution that allows customers to transact with their suppliers online to expedite proposal response time, change orders, invoice reconciliation, payment and tracking of meeting and event spend," said Talia Mashiach, CEO and Founder of Eved. "In a business that is all about the personal touch, meeting and event professionals are increasingly challenged to cut costs and still deliver exceptional experiences. The integration with SignUp4 gives meeting planners an automated way to control costs without compromising service."
SignUp4 customers will also enjoy easy access to special hotel discounts on DealBoard, Eved's new online channel that matches defined sourcing criteria with available group meeting space. "DealBoard brings benefits to both sides of the supply chain," said Jan Lofgren, Vice President of Global Business Development for Eved. "Meeting planners can find the right space, in the right location, at a great price by creating personalized deal alerts for their upcoming program. Conversely, participating hotels will have an online marketplace to post their promotional, excess or cancelled space with access to a rich channel of qualified buyers ready to book." "SignUp4 is designed to easily be integrated with other industry leading applications. SignUp4 and Eved's integration will dramatically increase time savings and improve accuracy in reporting," confirms Nick Romano, President and Co-Founder of SignUp4.
About SignUp4
SignUp4 is the innovative meetings intelligence provider offering the highest quality event management and strategic meetings management solutions with an affordable unlimited usage model. Founded in 1999 and backed by an experienced team of technology and event management experts, we are driven by a single objective- to design, develop, deliver, and support the most reliable, cost-effective event management tools. To ensure we meet the needs of our clients and the demands of the evolving meetings industry, we develop new features and functionality every 5 weeks, on average producing over 1,000 updates annually. The goal of SignUp4's meetings intelligence is to streamline workflows, simplify and drive registrations, efficiently manage travel logistics, improve communications, and provide visibility into meeting spend for leveraging contract negotiations and increasing ROI. With over a decade of experience, 3,200 users and over 80 of the Fortune 500, we understand the value of your time and events.
About Eved
Eved is the market leader in Event Commerce. Launched in 2010, Eved offers a complete Source-to-Pay cloud-based technology solution that automates the buying and selling for meetings and events. Eved has been adopted and championed by leaders in the meeting and event industry and now encompasses more than 3,700 users across the entire supply chain including corporations, meeting and incentive companies, destination management companies, venues, hotels and local and national suppliers.
Connect with Eved: @EvedMarketplace, facebook.com/evedllc, pinterest.com/evedmarketplace