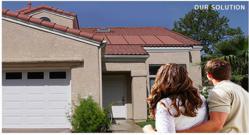 Ventura, CA (PRWEB) July 24, 2012
Colored Solar has introduced the first photovoltaic colored solar panels to receive Intertek ETL safety certification to UL 1703. The new Stylish Solar Panels™ are designed to blend architecturally with aesthetics for residential or commercial buildings. Colored Solar panels have been tested to exceed UL 1703 safety standard, and comply with the CEC (California Electric Commission).
The panels are high efficient with 25% thicker glass than industry standard, and designed and engineered by Gold Coast Solar in Ventura, California. Performance tested at the Department of Energy's National Renewable Energy Labs (NREL) as equally efficient to conventional solar panels, there is little performance compromised for a 16%+ efficiency colored 225W panel.
Bridging both the PV and the building integrated photovoltaic (BIPV) markets, Colored Solar is recognized as a leader in pioneering solar technology. "Homeowners value the look of their homes because it is an expression of who they are. Homeowners want, expect and deserve a solar product that they can be proud to display", "Our customers can be comfortable knowing that our panels have been tested to ETL's respected standards and will meet and qualify for all rebates and tax incentives", said Michael Mrozek CEO. "Our game changing colored solar panels are built to a higher standard; we are not your standard solar panel."
The panels are produced and assembled in the U.S.A, and utilize domestic components to produce best-in-class PV modules. These high quality panels are built to exceed standards, and are made for adverse environments with a durable 25 year power warranty 5 year workmanship warranty, and rigorous quality control meeting US and international standards IEC/UL 1703".
Colored Solar has a unique way to integrate solar panels designed for homeowner associations (HOA), historic buildings, and architecturally sensitive locations where aesthetics is mandated. Ground mounts can now be camouflaged into hillsides, and rooftops are blended to increase curb appeal helping to improve adoption for residential and commercial solar PV.
About Us: For more information visit the showroom in Ventura, California or http://www.ColoredSolar.com
Contact: Business Development at (877)526-2462