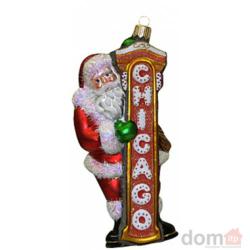 Winner of the 2012 about.com Reader's Choice Contest for Online Kitchen Store
Chicago, IL (PRWEB) July 20, 2012
Domitp, a Chicagoland chain of European houseware stores, is announcing its "Christmas in July" sale. Starting July 20th and ending the 31st of July, Dom itp will be offering 25% off all online orders of handmade glass Christmas ornaments from Poland, including its new and exclusive 2012 collection of Chicago ornaments. The entire line of Christmas ornaments can be found at http://www.domitp.com.
Dom itp's annual collection of Chicago-themed Christmas ornaments are showcased each winter to millions of visitors at Chicago's Christkindlmarket (Christmas Market) and are often sold out before Christmas Day. Each year new ornament designs are added, rendering each ornament as a highly sought out collectible piece. Last year various news and media networks across Chicago, including NBC and ABC, highlighted this collection on their programs. Some of the most popular ornaments are replicas of iconic Chicago landmarks like: the Millennium Park Bean, the Water Tower, Cellular and Wrigley Fields, the Marshall Field's Clock, the Chicago Theatre Sign, the Chicago Municipal Flag amongst many others. Each ornament is mouth-blown and decorated by hand in Poland by skilled artisans, which transforms each ornament into a unique piece of art. Dom itp's ornaments are truly the perfect gift for any Chicagoan or ornament lover. These highly desired ornaments will only be on sale until the end of July and will not go on sale again until after the Holidays.
Started in 1990, by an immigrant couple from Poland, Dom itp is a Polish phrase that means "Home etc…" in English. The chain of five retail locations throughout Chicagoland specializes in selling high-quality housewares like Christmas ornaments, Polish pottery, and glassware directly from Poland. It has been proudly offering all of it's products for sale online for the last 5 years and has just been announced as the winner of the 2012 About.com Reader's Choice contest for Best European Kitchen Store. The chain is currently expanding their brand both locally in Chicago and nationally on http://www.domitp.com, and a sixth retail location is expected to open in Woodfield Mall (Schaumburg, IL) in time for the 2012 holiday season.
For more information about Dom itp, or to schedule an interview with Michael Krynski, please call Michael Krynski at (847) 448-0377 or e-mail Michael at pr(at)domitp(dot)com.