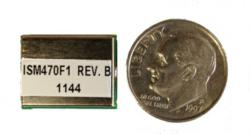 Billerica, MA (PRWEB) July 25, 2012
Inventek Systems announces its newest compact global positioning system (GPS) receiver module offering industry-leading size, sensitivity, low-power and fast location-fix performance. The ISM470F1 module is optimized for size and battery constrained applications. It is based on the fast and deep search capabilities of CSR's (http://www.csr.com) SiRFstar IVTM GSD4e platform. The modules firmware includes the SiRFInstantFix technology that minimizes the time-to-first-fix (TTFF) and SiRFaware software for optimizing the performance versus power trade-off. The SiP module is ideally suited for a broad spectrum of size and power restricted applications such as handheld consumer devices, digital cameras, asset tracking, vehicle tracking, and personal tracking for fitness and sports.
Several key features of the ISM470F1 module include the following:

Compact module size: 9.5mm x 10.5mm x 2.4 mm.
Integrated LNA, SAW Filter, TCXO (Optional).
Cold, Warm, Hot Start Time: 35, 35, 1 Sec. respectively.
Reacquisition Time: 1 second.
Fast hot starts in weak signal environments.
Built-in jamming detection and mitigation.
48 track verification channels.
Host Interfaces: UART, SPI or I2C (Default SPI).
Single power supply voltage 1.8V.
For evaluation and design integration, Inventek offers the ISM470 Evaluation Board (EVB). The features of this EVB include:

ISM470F1 (Flash version) GPS modules.
Displays: Lat/Lon, UTC, Satellites, HDOP, Altitude, GeoID
Supports SiRF Flash utility on the ISM470F1 module for upgrading to the latest firmware.
Pricing and Availability:
The ISM470F1-C4.1 is in volume production and sells for $18.00 in 100 piece quantities. It can be ordered through the on-line store http://www.inventeksys.com/store/index.html. Please contact Inventek Systems directly for higher volume quotations or email sales(at)inventeksys(dot)com. For applications questions contact Engineering(at)inventeksys(dot)com.
About Inventek:
Inventek Systems is a privately held, USA-based, full-service wireless solutions provider focused on 802.11 WiFi embedded solutions, GPS embedded modules and antennas. Wide spectrums of standard and custom embedded products are offered ranging from low cost system-in-a-package (SIP) products to modular based custom solutions. Inventek provides a unique set of services from consulting to custom design to cost effective high volume manufacturing.
Inventek Systems products are used in a wide range of consumer, industrial, and defense based applications. Inventek's eS-WiFi and Ez-GPS products are enabling customers around the world to add WiFi connectivity and GPS features at a quickening pace with minimal design effort.