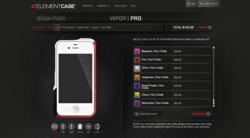 The Net Impact designers took our branding style guide and created a visually pleasing interface with very little direction
St. Louis, MO (PRWEB) July 20, 2012
Global iPhone case retailer, Element Case recently completed development of a custom iPhone Case Design Studio working with national website developer, The Net Impact. The Net Impact offers a variety of custom web design, web development, internet marketing, social media solutions and more. With a variety of integrations, The Net Impact was able to design a virtual builder, integrate that software with ecommerce solution provider Volusion and build an admin section for Element Case to manage these new online features in the ecommerce store.
"The Net Impact designers took our branding style guide and created a visually pleasing interface with very little direction," says Matt Hillard, Director of Web Services at Element Case. "We couldn't be happier working with their team."
The Net Impact created a virtual builder that allows customers to design a customized Element Case i-Phone case from the comfort of their laptop, desktop computer or mobile phone. As many online retailers in the fashion industry offer custom applications to design tennis shoes online, this new tool from The Net Impact and Element Case allows customers to choose from a variety of colors. Customers can even select different colors for the case's frame, cap, power button, bridge insert, screws and back plate. Once your masterpiece has been completed it is passed to the shopping cart to complete your order. Integrating the web application with Volusion, allows Element Case to receive customer order information as it is entered into the database by website visitors.
Element Case can also manage their new application through the admin site that The Net Impact developed. By logging into the admin site, Element case can add product parts and change context on the portal pages. Having complete control over the site helps Element Case to respond to and adapt to new trends their audience follows. Ultimately it allows the company to better serve their customers.
"Our goal was to create a visually enjoyable and user-friendly interface," says Andrea Bemis, Senior Manager of Business Technical Services at The Net Impact. "We also wanted to give the Element Case staff the freedom to easily add or remove content for easy website management. Having this capability allows them to instantly update their site and bring new products to customers immediately."
About The Net Impact®
The Net Impact, a web marketing, web development and web design firm, is a division of Unidev®. Since 1997, The Net Impact has been a web development leader empowering clients with highly creative search engine friendly websites. Professional services include search engine and Internet marketing solutions, Internet strategy development, training, seminars and web design. For more information on The Net Impact, please visit http://www.thenetimpact.com, or call (800) 301-9589.
About Element Case®
Veteran Industrial Designer Jeff Sasaki founded Element Case Inc. in 2007 with a strong team of Industrial Designers, Graphic Designers and Visionaries that allowed him to create unsurpassed products for the Apple accessories market. Offering innovative designs and precision manufacturing from high-grade materials, Element Case offers a unique and treasured product line to the most discerning Apple customer. Element Case products are available online and through retailers and distributors and in more than 20 countries worldwide. For more information on Element Case Inc., please visit http://www.elementcase.com, or call (650) 486-1353.