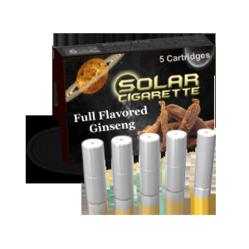 With Solar Cigarettes' new Ginseng Cartridge Pack, the use of the device can better one's health in many other ways.
Houston, TX (PRWEB) July 21, 2012
More celebrity smokers are replacing their ciggies with smokeless cigarette. The main reasons are the health benefits that the device presents. However, Solar Cigarette is adding more to it via its new ginseng cartridges.
Learn Why Hollywood Stars Are Loving Solar Cigarette
Just as it has been emphasized in commercials and health programs, cigarette smoking leads to a long list of illnesses. In fact, it even leads to death as proven by studies, researches and medical records of the smokers themselves.
The worse is that smoking also endangers the health and lives of those who are not even into the habit. Hence the banning of it in public places. However, despite the warnings, many are still into puffing cigarettes because, as many of them say, it's just too difficult to kick it. But aiming to help those who want to give up the cancer sticks for good, Solar Cigarette suggests the use of an electronic cigarette.
More specifically, the company advises the use of its electronic cigarette. Carrying the same Solar Cigarette name, the device offers more health benefits than any other smokeless cigarette available today, the company representative said.
As it only heats nicotine juice instead of burning tobacco, the device delivers smoking sensation without emitting a smoke full of carcinogens. Basically, that saves smokers and other people who could be exposed to the smoke from developing a number of chronic illnesses. The most common of those diseases are throat cancer and lung cancer.
Start Smoking Healthy. Get Your Solar Cigarette Starter Kit Today
But apart from that health benefit, Solar Cigarette also helps lose weight. For smokers who are overweight, the use of it can hit two birds in one stone. That is it can help a person quit the habit while shedding pounds to get the ideal weight.
But the good things don't end there. With Solar Cigarettes' new Ginseng Cartridge Pack, the use of the device can better one's health in many other ways.
As the company stated, its ginseng cartridge is one of the most beneficial flavored cartridges in its product line. It can help reduce the effects of stress, boost energy level, enhance memory and even stimulate the immune system. And those benefits are just some of what it can give.