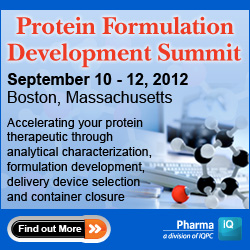 Many challenges are currently preventing optimal formulation since protein molecules are so difficult to handle 'at benchside' and deliver to a patient 'at bedside.'
Philadelphia, PA (PRWEB) July 21, 2012
Pharma IQ, a division of IQPC, announces the Protein Formulation Development Summit, September 11 and 12, 2012 in Boston, MA.
Developing an effective, marketable protein drug through effective protein formulation development is an important sector of the pharmaceutical industry. Many challenges are currently preventing optimal formulation since protein molecules are so difficult to handle 'at benchside' and deliver to a patient 'at bedside'.
The current hurdles faced by researchers include selecting different formulation compositional elements including optimal pH, optimal buffers, optimal excipients, inferring structural chemical, physical and biological stability, ensuring minimal aggregation through effective predictive methods and undertaking novel delivery techniques through efficient early preformulation.
The Protein Formulation Summit event provides insight into innovative techniques for these dilemmas and technologies with which to predict, screen, test and accelerate formulation development towards license approval. There is currently no rational approach to develop a protein biotherapeutic, and the summit will seek to provide the information for formulation scientists to construct this.
Topics to be covered at the summit include:

Constructing a rationale approach to protein formulation development: Assessing a box ticking approach to development acceleration
Developing a plan for oxidation as part of your chemical stability studies; building a resistance to oxidation
Industry roundtable: Innovative trends in monitoring techniques for particulates in 1-5 micron range and the sub 1 micron range
Case Study: Reversible aggregates – Examining the known and unknown
Overcoming pipeline difficulties with antibody-drug conjugates and getting FDA approval
Strategies to monitor excipients from all aspects: Assessing FDA requests for industry attention to excipients
Leachables: quantifying uniformity of components in the injectable device to avoid leachables and specific case study in glass delamination
Late stage container closure and selection - alignment with your formulation
For more information on the Protein Formulation Development Summit please visit http://www.proteinformulationsummit.com, or contact Taryn Soltysiak, Marketing Manager at Taryn(dot)Soltysiak(at)iqpc(dot)com.
About IQPC
IQPC (http://www.iqpc.com) provides business executives with tailored practical conferences, large-scale events, topical seminars and in-house training programs. Producing over 1,500 events annually around the world, IQPC continues to grow and has offices in cities across six continents including: Berlin, Dubai, London, New York, Sao Paulo, Singapore, Sydney, and Toronto.
Contact:
IQPC
Taryn Soltysiak
T: +1 646-200-7945
F: +1 888-231-7864
http://www.iqpc.com