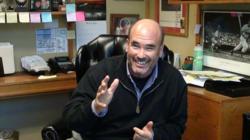 It is a phenomenal feeling to know why you are here," says Jim Chilton.
San Diego, CA (PRWEB) July 21, 2012
Passion is one thing you can never say that Jim Chilton lacks. There is a fire inside of him that is unmatched because he is a man on a mission to coach everyone to success.
Mr. Chilton believes he was put here to be a vehicle, that through him, his team will prosper.
"It is a phenomenal feeling to know why you are here," says Jim Chilton.
Mr. Chilton will be seen sharing this passion behind a podium at a conference with over 1,000 attendees in Las Vegas next week. He will speaking Tuesday afternoon on 24th of August at the Paris Hotel, for the Hegemon Conference of Champions.
With 35 years' experience of successfully running three businesses, a financial planning practice, a nonprofit organization and a marketing organization Mr. Chilton will impart his knowledge and experience to the audience. The message will be motivating, inspirational, energetic, lively, and fun.
Mr. Chilton has ability to relate to all working professionals with his every-man attitude that creates an instant bond. As always, Mr. Chilton will electrify and create a new found sense of self confidence that empowers success to all that hear his message.
In his youth, Jim wanted to be a professional baseball player like the greats: Willie Mayes and Pete Rose. As he grew older he realized he has a higher calling and a true passion to coach others. Jim has coached on the field but his more notable coaching has been to the business community. He has been giving motivational speeches to meetings and conferences all across the country for years.
While fulfilling his professional calling Mr. Chilton still finds time to enjoy his personal life. Mr. Chilton married his own personal coach, a certified health coach named Pam, whom he met in college. They have enjoyed thirty-four years of marriage and created their own team of five children. Mr. Chilton still enjoys baseball, but his true pastime passion is riding his road bike, where he contemplates how he can help people succeed next.
Mr. Chilton works to spread financial education to everyone in America through his nonprofit organization, The Society for Financial Awareness (SOFA). He coaches his clients to financial success in his financial planning company, Financial Solutions. He also teaches prospecting strategies through his marketing organization, Prospecting Meister.
For more information on Jim Chilton, SOFA, Financial Solutions or Prospecting Meister or to have him speak at future engagements please contact Krista Payne at 858-268-7091 or at kpayne(at)sofausa(dot)org.