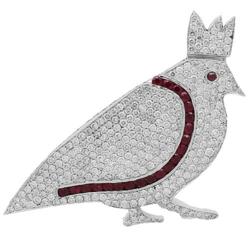 new york, ny (PRWEB) July 20, 2012
5Boro clothing, one of today's skaters' prefferred clothing brands, has collaborated with Avianne & Co Jewelers on a new set of iced out pendants for the company logo. The 5Boro logo, a bird wearing a crown, is synonymous with today's skateboarding movement. Avianne & Co Jewelers, the music industry's leading source of hip hop jewelry, immediately jumped at the task and produced an astounding set of chains in a variety of diamond colors.
The initial piece, a fully iced out diamond pendant consisted of 13 carats in diamonds and gemstones, micro pave set in a solid 18k gold casting of the 5Boro logo. The rest of the frame, except the back, are micro set with brilliant round cut white diamonds. The back plate features the Avianne & Co logo engraved with the 5Boro logo in a perfect display of collaboration. The collabo, brought about by a relationship Elliot Avianne had developed with the 5Boro team, spawned a series of similar pendants composed of varying diamond and gemstone colors.
"Elliot figured it'd be best to flood the entire logo in diamonds, to give it this 3D feel. So naturally we had to ice out the sides of the pendant as well." says George Avianne, eCommerce director at Team Avianne.
The initial layout of the diamonds was the easy part. The actual masterful setting of each stone in a tiny micro pave style was slightly more difficult.
"If you pay close attention, the sides of the logo are actually adorned with not one, but two rows of perfectly arranged micro-set diamonds. This is a process that can only be achieved at this level of detail with a microscope." - Elliot Avianne, on the diamond setting process.
Additional 5 Boro diamond chains were produced, in yellow gold and rubies mixed in with a stunning arrangement of yellow diamonds, and can be viewed online at Avianne & Co.