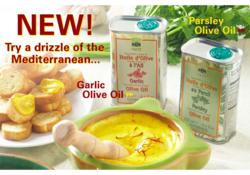 New York, NY (PRWEB) July 20, 2012
O&CO.'s specialty olive oils press fresh fruits and herbs right along with the olives: basil and mint from the Galantino family's farm in Puglia, green lemons from Tras-os-Montes, Portugal, and mandarin oranges from sunny Sicily; all 100% natural.
Following an age-old Italian tradition, our two newest olive oils have distinct flavors and ingredients and yet share the essential Mediterranean bond:
In the Puglia region of Italy, one is also inspired by eastern Mediterranean cuisine, where parsley is a key ingredient. Rich in essential oil, parsley leaves crushed with olives yield delicately flavored oil that brings a herbaceous & grassy note to any cuisine. Paired with meat, fish, shrimp, vegetables and rice or added to soups, this olive oil is a fresh, flavorful addition to meals.
Garlic and olive oil are essential ingredients in Mediterranean cuisine. Our mill operator from Puglia, Italy, reunited them by crushing the olives and garlic cloves together at the press. As a result, he produced exceptional garlic oil that is perfectly balanced and easily digestible. When paired with salads, potatoes, aioli, sauces, meats, vegetables and pasta, this oil is a true must-have to cook in the Mediterranean style!
Sixteen years have passed since the creation of O&CO.; sixteen years of visiting orchards and meeting with producers throughout Provence and the Mediterranean basin to select only the finest the Mediterranean has to offer. In addition to selling these fine products online, O&CO. has 6 boutiques in the US and 85 boutiques around the globe.