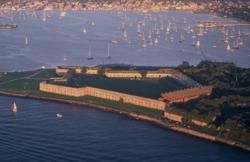 Seeing how much my dog Boone enjoys the Fort, I knew I had to share this opportunity with others
Newport, RI (PRWEB) July 19, 2012
This month marks the long awaited return of Fort Adams' Canine Cadet Adventures, a social gathering for dogs and their owners. Created in 2010, the Canine Cadet Adventure was a great success. Unfortunately safety concerns in the 180 year old National Historic Landmark prevented its return in 2011. Nevertheless, following a $2 million restoration this winter, the Fort has been secured and stabilized, allowing for the return of this much loved event.
Held on the Parade Field within the walls of the Fort, this event allows dogs and their owners a unique opportunity to explore the interior of Fort for themselves. Understanding how difficult it can be to find a safe place to let your dog run free in Newport, Robert McCormack, Director of Marketing and the Visitor Experience notes, "Seeing how much my dog Boone enjoys the Fort, I knew I had to share this opportunity with others."
The Canine Cadet Adventure allows dogs and their owners to gather, mingle and socialize around the fire pit, enjoying the expansive 6 ½ acre Parade Field. The event helps bring the public and their dogs not only to the Park, but inside the walls of the Fort itself.
Fort Adams Trust will continue hosting this event on the 2nd and 4th Thursdays in July and August from 5:30pm to 7:30pm.
A $5 suggested donation includes treats and water for cadets and ingredients for 'make your own smores' for owners. Limit two Cadets per person. McCormack notes, "Owners can enjoy beer and wine from our 'Mess Hall' concession and take formation with 'Colonel Boone' for a Canine Cadet Parade around the Fort. Attendees are welcome to bring their own chairs, blankets and picnic baskets. Proceeds from this event benefit the stabilization, restoration, maintenance and operations of Fort Adams as a public historic site.
About the Fort Adams Trust
The Fort Adams Trust, founded in 1994, is a nonprofit 501 (c) (3) organization charged with directing and supporting the stabilization, restoration, maintenance, and operation of Fort Adams as a historic site; conducting educational, cultural, and interpretive programs and activities; generating revenues that will financially sustain the Trust's programs; conducting fundraising activities to finance the stabilization, restoration and maintenance of the Fort during the short and long term; holding special events; operating a museum; employing a staff; maintaining a membership; and all other business consistent with the operation of an historic site.