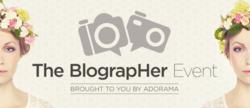 BlograpHer is Adorama's way of showing women bloggers how to take their words and photos to the next level.
Chelsea, NY (PRWEB) July 20, 2012
Adorama, the leading enabler, online educator, and equipment supplier for professional and amateur photographers, today announced its first-ever Blographer convention. This special one-day event in the heart of New York City is designed exclusively for women who blog about photography, using their words and pictures to share powerful stories about family, friends, and trends online.
BlograpHer will be held on August 2 at the famous Metropolitan Pavilion, just down 18th Street from Adorama's Manhattan flagship store. The event's content-rich curriculum will place a special emphasis on the creative techniques and promotional strategies behind successful photo blogging. As the go-to resource for photographic education and the center of a very large and active photo community, Adorama will deliver an unforgettable learning experience to Blographer attendees--allowing them to take their blogging to the next level.
Featured speakers and teachers at Blographer will include top experts and personalities from the photography, blogging, and social media spheres. Prominent bloggers Lotus Carroll, Amanda Bottoms, Rachel Devine, Erin Cobb, Amanda Padgett, and Vivienne Gucwa are all scheduled to appear. A variety of partner companies from the photographic industry will co-sponsor the event, bringing their many valuable resources with them.
"We created Blographher to gather women bloggers together so that they can share their knowledge and experience," says Joel Meisels, Social Media and Community Liaison at Adorama. "It will be a unique opportunity to celebrate women's photography and build our online community. We're excited to welcome women photo bloggers from all walks of life and art to this exclusive event." For more details about Blographer, and to register in advance, go to adorama.com/blographer.
For information and media inquiries, please contact Joel Meisels at joelm(at)adorama(dot)com or 800-223-2500, extension 2045.
About Adorama:
As one of the nation's largest photo retail and mail order suppliers, Adorama has served professional and amateur photographers for 33 years. It recently expanded its service to the community through online photo education (the Adorama Learning Center and Adorama TV) and on-site workshops, programs that make it a unique industry resource. Adorama's vast product offerings now encompass home entertainment, mobile computing, and professional audio, while its services include an in-house photo lab (AdoramaPix) and pro equipment rental (Adorama Rental Company). Knowledgeable staff and unbeatable pricing make Adorama a one-stop shop for all photo and technology needs. Visit adorama.com to experience the full range of Adorama's products and services.