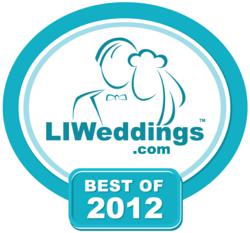 Nothing speaks louder than customers
Islandia, NY (PRWEB) July 19, 2012
Incredibooths, a Long Island photo booth rental company has just earned another award. LIWeddings.com contest "Best of 2012" let real brides vote on the best wedding companies and wedding accessory companies and the results placed Incredibooths at the top!
IncrediBooths was selected by brides as the best of the photo booth companies by LIWeddings.com. This only the most recent accolade for the photo booth rental company who has received numerous client-voted awards including Long Island Press #1 Photo Booth 2012 and the WeddingWire Brides Choice Award 2012.
"Nothing speaks louder than customers," said Dennis Sea, owner of IncrediBooths. "When they decide we are the best, then we are the best. Our customers have said it. We didn't buy this award, we didn't create this award. We earned this award by exceeding the expectations of our customers time and again. We love hearing the positive feedback and everyday think of just one thing... how can we do it even better!"
LIWeddings.com is long islands largest wedding web site. Thousands of brides have used the services there and then voted in the contest. One of those users is Jennifer C.
"IncrediBooths was simply amazing. The pictures we took are just beyond description. I know in years to come, I am going to look through my photo scrapbook and I will laugh as my photo strips bring back memories of this most important day in my life," she said. "IncrediBooths didn't just get my vote. They earned it."
Mr. Sea said some people may think a new standard for superior service was created. He calls it a benchmark to start from.
"We received the award this year and are super excited about it. We just can't wait until next year because there is always room for improvement! Our customers help us improve and we're going to just get better, better booths, better service, and even more options." he said.
For more information visit http://www.incredibooths.com