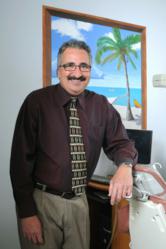 Monroe, CT (PRWEB) July 23, 2012
The practice of Dr. Richard Amato is aiding patients with periodontitis and advanced periodontitis through a gum grafting procedure. The gum graft procedure, sometimes called a free gingival graft or connective tissue graft, helps patients with receding gums to cover the root surfaces and raise the height of the gum line. This can help protect the teeth from bacteria and increase the stability of the teeth.
When gingivitis is left untreated, it becomes periodontitis and the gums begin to recede. Recession of the gums leaves gaps between the teeth where bacteria can collect and damage the teeth. If left untreated, the receding gums continue to recede and teeth can become loose, shift and ultimately lost. This can affect a person's bite and appearance while the teeth are in danger of being lost. In order to save the teeth, periodontal treatment, including laser periodontal therapy or a gum graft procedure, is required in the advanced stages of this disease.
One procedure used by Dr. Amato to treat this problem is gum grafting. Whether one tooth is affected or several teeth are compromised, a gingival graft may be necessary to help protect the teeth from bacteria. Bacteria not only can cause gum disease and the loss of teeth, but also receding gums. Patients with receding gums are likely candidates for the gum graft procedure.
There are three different gum graft procedures that Dr. Amato may use, depending on the needs of the patient. The basic idea behind all three procedures is that tissue is taken from somewhere in the mouth where it will not be missed, or even from a tissue bank, and grafted onto the existing gum that has receded. It is sewn or sutured into place so that it will be held in place while it grows together with the existing gum tissue. It is important to follow the after-care instructions that are given in order to allow the new tissue enough time to connect properly to the old tissue. For more information about Dr. Amato and the gum graft procedure, visit http://www.connecticutperiodontist.com/Treatments/GumGrafting.
About the Doctor
Dr. Richard Amato is a periodontist offering patients personalized dental care for Monroe, Connecticut. Dr. Amato received his Doctorate of Dental Surgery degree from Stony Brook University where he was awarded the School of Dental Medicine Department of Periodontics Award for Excellence in Periodontology. Dr. Amato completed a specialty post-doctoral residency and received his Certificate of Proficiency in Periodontics from Eastman Dental Center at the University of Rochester. He is part of one percent of dental professionals providing the most recent FDA cleared laser procedure for gum disease and periodontal treatment. To learn more about Dr. Amato and his dental services visit his website at http://www.connecticutperiodontist.com and call (203) 712-0917.