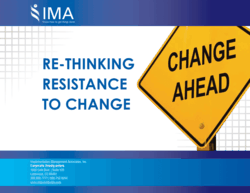 Attempts to eliminate resistance to change are useless, and not even desirable.
Lakewood, CO (PRWEB) July 24, 2012
Resistance to change can actually be a sign of organizational health. That's one of the provocative statements in IMA's (Implementation Management Associates') just released free ebook,"Re-thinking Resistance to Change."
The ebook contends that resistance to change is one of the most misunderstood concepts in management today. Many organizations are investing in transformational changes like health care reform, shared services, restructurings, and consolidations, with untold time and energy being spent in "useless and even undesirable attempts to eliminate resistance." The fact is that resistance to change can't be overcome, combatted, or eliminated. It should, however, be managed, because unmanaged resistance is likely to slow down or even stall out these transformational changes.
One of the myths that the ebook sets out to dispel is that employees won't resist changes that are viewed as positive by senior management. "Resistance is a function of disruption," says Don Harrison, IMA President, "and it's not logical. If it were, no one would smoke, and we would all be skinny!" The more that a change disrupts the habits and patterns of individuals who are the targets of the change, the more resistance you can anticipate.
On the positive side, resistance is a sign that the organization is changing, and that the organization has touched on something important. For organizations with a strategic imperative to drive innovation, resistance is a sign that the organization is engaged. Harrison says, "An innovative organization is actually resistance-laden, not resistance-free. Innovation and resistance are different sides of the same coin."
Adds Harrison, "If you can't find resistance, it means one of two things: either nobody's changing, or the resistance has gone underground. In either case, it's not good news." Instead, the ebook encourages organizations to "go to the resistance early" so that the sources of resistance can be identified and strategies can be put in place to manage the resistance to change. The ebook offers several recommended means for identifying the sources of the resistance, including using social media and blogs.
Once the sources of resistance have been identified, the ebook shares both effective and ineffective tactics from IMA's proprietary Accelerating Implementation change management methodology (AIM) that managers can use to manage the resistance. For example, if managers spend more than 25% of the time talking instead of listening, they are missing the opportunity to understand why there is resistance from employees.
The ebook also emphasizes the importance of building involvement strategies that give employees the opportunity to participate in how the change will be implemented. "Involvement gives employees a greater sense of control over their work environment," says Harrison. "This doesn't mean putting changes up to a vote, but if you can't get employees involved in deciding what to change, get them involved in how to change."
Implementation Management Associates (IMA) is an international consulting practice that guides organizations through all types of organizational change implementations, including transformational change, applying a business-disciplined, structured approach to organizational change management known as AIM (Accelerating Implementation Methodology.)