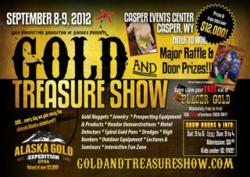 "Prospecting isn't necessarily all about having the gold. It's as much about finding it."
(PRWEB) July 23, 2012
The Gold Prospectors Association of America will hold its Gold & Treasure Show Sept. 8-9 in Casper, Wyoming. The show will feature gold-panning contests as well as seminars led by experienced prospectors.
With the price of gold hitting record highs last year, GPAA President Brandon Johnson said gold fever is definitely rising and memberships to the organization have shown substantial growth over the last year.
"Spiking gold prices are sometimes the deciding factor to turn off the TV and actually go gold prospecting to experience it for yourself. A quarter-ounce or pennyweight of gold is worth a lot more now than it used to be," Johnson said.
"Prospecting isn't necessarily all about having the gold. It's as much about finding it," he said, adding that for many members the thrill is enjoying the outdoors with family and friends.
The Gold & Treasure Show in Casper will feature vendors and displays of gold nuggets, jewelry and prospecting equipment such as metal detectors, drywashers, spiral gold pans, dredges and highbankers.
Showgoers over 18 years of age will get a chance to win a two-week Alaska Gold Expedition trip to GPAA's famous Cripple River gold prospecting camp near Nome, Alaska. The event will run Saturday, Sept. 8 from 9 a.m. to 5 p.m. and Sunday, Sept. 9 from 9 a.m. to 4 p.m. at Casper Events Center, 1 Events Dr., Casper WY 82601.
Admission is $5. Children 12 and under admitted free. The first 100 paid attendees will receive a free vial of placer gold. Tickets are available at the door. To pre-register online and get in free, go to http://www.goldandtreasureshows.com.
To find out more about gold prospecting, gem and treasure hunting or how to contact a local GPAA chapter in your area, visit http://www.goldprospectors.org or call (800) 551-9707.
The Gold Prospectors Association of America is the producer of "Gold Fever" and "Alaskan" TV shows on Outdoor Channel and the publisher of Gold Prospectors magazine and the Pick & Shovel Gazette.
The GPAA has more than doubled the number of Gold & Treasure Shows on its nationwide tour from nine last year to 20 shows in 2012. There are 7 shows remaining this year:
2012 Gold & Treasure Shows
Casper, WY September 8 – 9, 2012
Butte, MT September 15 – 16, 2012
Denver, CO September 22 – 23, 2012
Mesa, AZ September 29 – 30, 2012
St. Joseph, MO October 13 – 14, 2012
Dayton, OH October 20 – 21, 2012
Spartanburg, SC October 27 – 28, 2012