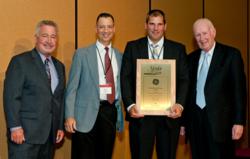 Pride in Partnership is a key part of Arthur Rutenberg Homes' commitment towards custom luxury home building excellence by bringing ARH franchisees and partners from throughout Florida, North Carolina and South Carolina together
St. Petersburg, FL (PRWEB) July 21, 2012
The 21st annual Arthur Rutenberg Homes Pride In Partnership awards dinner was held June 19th at the Hilton Carillon Park in St. Petersburg. Awards were presented to ARH franchisees and vendor partners who exhibited noteworthy performances during the past year.
Sarasota based Franchisee, Derek Nelson, of Nelson Homes, was named the 2012 Builder of the Year. Derek was honored for his first class internal organization, aggressive and professional marketing and for his satisfied customers who speak to the high quality of construction and service they provide.
Art Rutenberg presented the Chairman's Award to Jim Rosewater of Paragon Homes of Charlotte. The Chairman's Award is an award to recognize special achievement and is not awarded every year. Jim was honored for his excellent leadership, resourcefulness, creativity and hard work in taking ARH Homes into a new territory – the Carolinas. He started the territory with one franchise 3½ years ago. Today ARH has six franchises and a product line of 20 homes designed specifically for the Carolinas, four models open to the public and five models under construction or soon to start.
Vendor of the Year honors went to GE Appliances. This award speaks for itself, as it is voted on by the ARH franchisees. GE won this honor for the 7th time for providing quality service to franchisees and providing products to our homeowners that demonstrate superior value. Accepting the award for GE was Mike Racculia, Joe Lomascolo and Kreg Hickman.
The Builder Gold Cup Award went to Jim Sanders and Larry Sandles of SandStar Homes. The Builder Gold Cup is awarded to the franchise with the highest customer satisfaction rating this past year based on customer surveys. It recognizes outstanding performance in critical success factors, including service promptness, courtesy of staff, quality control, and the addressing of customers' concerns - all as rated by its customers. SandStar Homes scored 98% in overall satisfaction and 100% of those respondents would recommend them.
The Vendor Gold Cup was presented to PGT for this vendor partner's exceptional customer service to our franchisees, their homeowners, the Design Centers and ARH Model Home designers. Accepting the award for PGT were Mike Huskey, Tom Walsh and JR Bontrager.
Two Best Model Awards were presented. The Best Model In The Florida Plan Collection was given to Nelson Homes for the Bermuda model located at Lakewood Ranch. The Best Model In The Southern Plan Collection was awarded to Paragon Homes of Charlotte for the Asheville model in Springfield, SC. This model represents a very successful introduction of our brand to the Charlotte, NC market.
Two new awards were introduced this year – Best Model Interior Designer for the Florida Plan Collection and the Southern Plan Collection. Cindy Alander won both of the Interior Design awards this year for her outstanding work on the Bermuda at Lakewood Ranch and the Asheville in Springfield.
The Award for Communication Excellence, the ACE award, is presented to Arthur Rutenberg's vendor partner who, over the past year, has provided the best product training and customer service to ARH builders and Design Centers. The recipient of this year's ACE Award was Moen in recognition of their great field representation and superior training for ARH building companies and Design Centers. Chris Forbrick, Alex Hernandez and Shane Kelly accepted the award.
About Arthur Rutenberg Homes
Arthur Rutenberg has been a respected name in Florida homebuilding since 1953, when he built his first home upon the four "cornerstones" that would make him legendary: design, craftsmanship, service and responsibility. Today, Arthur Rutenberg Homes, Inc. is one of the largest networks of independently owned and operated homebuilding companies in the nation, with franchised homebuilders throughout Florida, North Carolina and South Carolina. For further information, contact Gabriella Nelms at 727-536-5900.
###