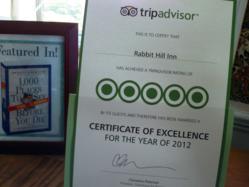 It doesn't matter if we think we're doing a good job, it's what our guests think that counts.
Marshall, MI (PRWEB) July 20, 2012
Select Registry, Distinguished Inns of North America, reported today that over one third of their luxury inns and bed and breakfasts were selected to receive the 2012 Certificate of Excellence from TripAdvisor. The accolade, which honors hospitality excellence, is given only to establishments that consistently achieve outstanding traveler reviews on TripAdvisor.
To qualify for the Certificate of Excellence, businesses must maintain an overall rating of four or higher, out of a possible five, as reviewed by travelers on TripAdvisor. Additional criteria include the volume of reviews received within the last 12 months.
"This is a reflection of us through the eyes and words of our guests," says Deanna Crossman, owner of the King's Daughters Inn, ranked TripAdvisor's #1 bed and breakfast in Durham, North Carolina. "It doesn't matter if we think we're doing a good job, it's what our guests think that counts. This award is validation that we're meeting and exceeding their expectations. That's what we strive to do every day."
Of the 150 inns surveyed by Select Registry, 95% achieved an overall rating of 4.5 or higher, with 62% receiving a full 5 out 5. The cohort includes delighted first-time recipients, along with many inns for whom the Certificate is an annual accolade. The vast majority of the association's North American properties, including Canada luxury hotels like Jordan, Ontario's Inn on the Twenty, have received the award for at least two years consecutively on average. The Seven Sea Street Inn, a charming Nantucket bed and breakfast, is one of more than three dozen inns to earn it every year since the award's inception three years ago.
"It's great for our innkeepers to be honored in this way," said Select Registry Executive Director Will Carlson. "It's an encouraging reminder to us [Select Registry] that our innkeepers are providing guests with an unparalleled experience and one that they want to share with fellow travelers. These kind of firsthand reviews help to keep our industry always reaching higher."
For a complete list of 2012 Certificate of Excellence recipients in the Select Registry portfolio, visit: http://blog.selectregistry.com/2012/certificate-of-excellence-recipients/
ABOUT TRIPADVISOR:
TripAdvisor® is the world's largest travel site, enabling travelers to plan and have the perfect trip. TripAdvisor offers trusted advice from real travelers and a wide variety of travel choices and planning features with seamless links to booking tools. TripAdvisor-branded sites make up the largest travel community in the world, with more than 50 million unique monthly visitors*, and over 60 million reviews and opinions. The sites operate in 30 countries worldwide, including China under daodao.com. TripAdvisor also includes TripAdvisor for Business, a dedicated division that provides the tourism industry access to TripAdvisor's millions of monthly visitors. http://www.tripadvisor.com
ABOUT SELECT REGISTRY:
Select Registry™ Distinguished Inns of North America represents nearly 350 of the finest country inns, luxury B&Bs, and unique small hotels across North America — the very best the industry has to offer. Established more than 40 years ago, Select Registry sets the standard for excellence with the longest continuously running inspection program in the B&B industry.
Inns applying for membership receive rigorous periodic inspections as do existing member inns. Independent inspectors with years of hospitality experience arrive anonymously, spend the night and evaluate the inn. No other online directory or organization of innkeepers has a comparable inspection program, establishing Select Registry as the benchmark for quality. Each member property is unique and showcased in the Select Registry Guidebook. With more than 200,000 copies available as gifts to guests, the guidebook is the largest publication of its kind in the travel industry. For more information, visit http://www.selectregistry.com.